PieceHomes extraPieces - Home Additions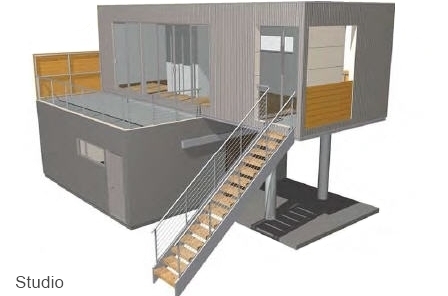 ExtraPieces
While the Standard and Premium series' tell everything you need to know about their respective buildings, there is much more mystery when it comes to the ExtraPieces range by Piece Homes. Put simply, the houses in this catalogue are of a much smaller variety and generally only composed of one or two modules. Most buyers will purchase an ExtraPieces building with the intention of utilizing them as an extension to their existing property, or taking them as a standard garden outbuilding.
The ExtraPieces series is slightly smaller than the other two by Piece Homes as well, with five products currently featured:
Guest House
Studio
Extension
Master Suite
Master Suite 2
Guest House
Most people will probably realize that this is a building that is intended to be used as a temporary residence for guests. Placed over 745 square feet, the building has two bedrooms and two bathrooms as well as all of the sustainable measures that Piece Homes like to include. It is possible to alter the internal configuration depending on your needs and in some cases, the company will consider extending it to 960 square feet and inserting an additional bedroom.
Studio
Even though Studio is placed over two floors, it is still a very small property and only has a floor space of 475 square feet. Buyers are presented with two possibilities when considering Studio, with one featuring mere living space and a bathroom, while the other has its own bedroom and the bathroom. Despite its small size, the architects have still managed to include a garage, with this being situated on the ground floor under the rest of the living space.
Extension
At 910 square feet, this is the largest property in the ExtraPieces catalogue. As the name may indicate, a lot of customers tend to erect this building right beside their current dwelling to increase the internal floor space. Alternatively, it is still big enough to use as a guest house, with its one bedroom and 1.5 bathroom configuration providing such a use. Other essential information revolves around it being comprised over two storeys, while the developers are flexible with the materials in order to blend it in with the existing environment.
Master Suite
This is a property that is rarely used these days, as it has been replaced by the upgraded Master Suite 2 which is explored below. It contains just the one bedroom and one bathroom, while the beauty of the product is that it arrives at site complete meaning installation times are kept to a minimum.
Master Suite 2
Instead, most people will be opting to purchase Master Suite 2. Set across 610 square feet, this boasts one bedroom, a study and a bathroom. Suffice to say, for those customers who require that little bit extra bedroom space, it might be possible to convert the study into such a room. Just like all of the products in the Piece Homes range, Master Suite 2 is hugely sustainable and takes advantage of solar technology and a green roof.
photo gallery
Basic Details
eP: Model:
studio / extension / master suite
sq ft:
475 / 910 / 625
base price:
contact
bedrooms:
studio / 1 / 1
baths:
1 / 1.5 / 1
garage:
yes / no / car port
Includes:
solar panels
green roof
decks (ep: Studio)
garage (ep: Studio)
carport (ep: Master Suite)