PieceHomes Wrap Tower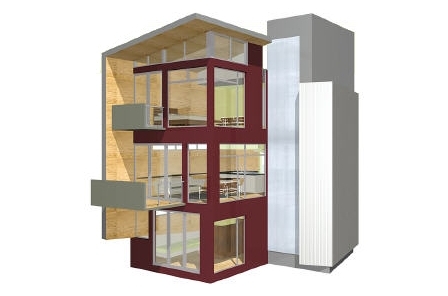 Wrap Tower
Wrap Tower takes on board all of the principles that Piece Homes have installed in practically all of their other products. It's tall, modern, while it's also large enough to facilitate a family home. Bearing this in mind, one should not be surprised to see that Wrap Tower has proved to be hugely popular in the market, with customers having access to the following specification:
A total internal floor space of 1,550 square feet
Three bedrooms
Two and a half bathrooms
One roof deck
Two balconies
What does Wrap Tower look like externally?
As one may gather from the name of this product, Wrap Tower is another building that takes advantage of more than the standard two storeys. In total, it spans over three floors, although Piece Homes have adopted some variation with their ground floor. While a lot of their buildings use this as a carport, the architects have decided to incorporate this into internal living space. This means that Wrap Tower is compressed into more floors, meaning that it can be suitable for a range of smaller plots.
In terms of the materials, Piece Homes have once again relied on a theme that borders on commercial. The staircases that are featured in this product are cased in futuristic cladding, with this tied onto the side of the property. Elsewhere, maroon cladding is prevalent throughout, as is glass - with this being featured from floor to ceiling on all elevations.
As well as the above, the whole design can be classed as being quite rigid. The roof is completely flat, while the partitions for the balcony are also very square.
What does Wrap Tower look like internally?
From an internal perspective, Wrap Tower doesn't take on the floor plan that you would find in a conventional house. For example, the bottom floor is mainly designated to bedroom space, with this room being large and also having a bathroom which is situated next door. At this point it should also be mentioned that all floors are of an 'L' shape.
The next level of the house is where the main living space takes place and some would argue that this is a very good decision, as it allows occupants to have a decent view of the surrounding area. A kitchen, living and dining zone are all present, with all of these arriving in open plan form. Furthermore, there is a decking area that can be accessed, which could make for a pleasant space for social occasions.
The top floor of the building is pretty much identical to the ground level. Again, this is designated to bedroom space, while there is also a bathroom attached for convenience.
While this is the standard layout for Wrap Tower, the architects make no secret of the fact that any floor plan can be placed on any level, thus providing customers with plenty of customization options.
A summary on Wrap Tower
Wrap Tower is enough hugely modern offering from Piece Homes, with the company once again releasing a very tall building to the market. The size of this property makes it ideal for families, while the flexibility in floor plans will also be appealing to many customers.
photo gallery
Basic Details
base price:
contact
sq ft:
1550
base price/sq ft:
contact
bedrooms:
3
baths:
2.5
garage:
no