PieceHomes The Double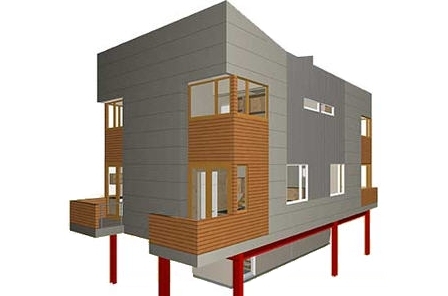 The Double
Any person that has taken an interest in the Piece Homes range will be aware that the company have also released a product named The Single. Therefore, perhaps unsurprisingly, The Double takes on these initial design principles and has created an even bigger building. In fact, it should be double the size of The Single - as that is primarily how it is formed.
What does The Double look like from an external perspective?
This is a question that can easily be answered for anybody that is familiar with The Single, as The Double is merely two versions of that building being placed next to each other. This creates a truly symmetrical outlook, which will be enticing in itself for a lot of buyers.
For anyone who is not aware with the approach that Piece Homes take with their products, the external materials can be classed as hugely modern. Metal cladding, in light colors, is prevalent throughout with small sections of the building being covered in wood panels. Most of The Double's roof can be classed as flat, although it does pitch up slightly towards the front of the building.
Another external feature worth commenting on is the outside space. The architects have included two balconies with The Double, while one can also access a roof deck. Therefore, occupants certainly aren't going to be short of any socializing areas when they take to this product.
A mention should also be provided for the carport. Situated on the ground floor, this has been strategically included amongst the columns that support the above structure. With single providing space for one vehicle at the very least, it could be possible to fit several in with The Double.
What does The Double look like from an internal point of view?
Again, the answer to this question varies depending on your knowledge of The Single. For those that are aware, it can be answered by merely joining two Single products together - thus doubling the internal floor space. This means that the kitchen, dining and living space is still open plan, but huge in size. The second floor can be mirrored on The Single as well, with four bedrooms now prevalent on this floor. Again, there is a symmetrical appearance and this of course means that there are two master suites. Subsequently, two of the four bedrooms have their own en-suite and closet facilities, as well as a significantly larger bedroom.
A summary on The Double
The Double can be classed as a very interesting product, with the building described in this way due to its relationship with The Single. The fact that Piece Homes have been able to release such a successful product which is merely another one doubled in size is quite amazing, especially as the final appearance is impressive to say the least. Bearing this in mind, The Double is sure to be a favourite amongst plenty of people who are looking for a tall family home of the prefab variety.
photo gallery
Basic Details
base price:
contact
sq ft:
1,205 (each unit)
base price/sq ft:
contact
bedrooms:
2
baths:
2
garage:
car port