PieceHomes Venice Two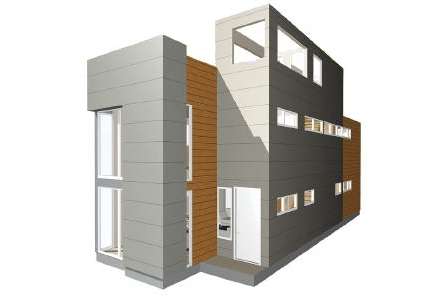 Venice 2
While most prefab companies attempt to create products that resemble traditionally built houses, this is yet another building by Piece Homes that takes a commercial appearance. Once again, it is very tall, while the materials used are of the modern variety. However, in incorporating three storeys, the architects have been able to release a product that will prove suitable for a range of plots - even the small ones. In summary, Venice 2 can be summarized through the following specification:
1,825 square feet internally
Three bedrooms
Two and a half bathrooms
Covered porch
An external width of 25' - ideal for narrow plots
What does Venice 2 look like externally?
While Venice 2 looks remarkably similar to a lot of the other products in the Piece Homes catalogue from a lot of respects, it has to be said that it doesn't from a material perspective. Cladding is prevalent on many of the homes that Piece Homes develop, yet it has to be said that the emphasis on grey, metal sheets is taken to a new level with Venice 2. The end result is a hugely modern exterior, with wood combining with the metal to just tone the appearance down somewhat.
Another minor difference is how Venice 2 doesn't exclusively rely on glass. Instead, openings are generally kept to a minimum, with the side elevation being a perfect example of this. On this wall, the windows are slim and long, while the fact they cross over into the wood panels of the wall emphasizes their external effect.
What does Venice 2 look like internally?
As Venice 2 is significantly bigger than a lot of other products released by Piece Homes, the architects have been able to be a little more creative with the internal design. On the ground floor, occupants are met with three bedrooms - with all being capable of facilitating double beds. Furthermore, storage is regarded as a priority and closets are available whenever space allows. Elsewhere, this floor boasts two bathrooms - with one being attached to the larger bedroom and acting as an en-suite.
The second floor is undoubtedly the interesting level though. This includes an "outdoor room" - which is basically a segment of the house which is boxed in but without a ceiling. This can make for a perfect relaxation area on warm days, while some occupants may use it for washing purposes. As well as this, there is a spacious living room, while the kitchen and dining room is situated at the opposite end of the floor. Another bathroom is placed in the middle of this level.
A summary on Venice 2
Venice 2 is certainly one of the more interesting products from Piece Homes, with the size allowing the architects more flexibility from both an internal and external perspective. The inclusion of an "outside room" is unquestionably going to be enticing to a lot of people, while others will just see Venice 2 as the perfect answer for a family home.
photo gallery
Basic Details
base price:
contact
sq ft:
1,825
base price/sq ft:
contact
bedrooms:
1
baths:
1
garage:
no
Includes:
Solar panels
green roof
covered porch (rear)