PieceHomes Rindge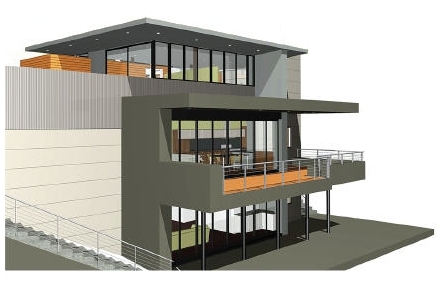 Rindge
With Rindge being put together via six different modules, it would be fair to say that this is one of the more significant properties by Piece Homes. The company have put together a huge offering via this product, with the total floor space spanning 2,610 square feet. Despite this large area, some may be surprised at the specification - particularly the number of bedrooms:
Three bedrooms
Three bathrooms
Two outside decking spaces
Green roof
Double garage
What does Rindge look like from an external perspective?
Over the years Piece Homes have developed a lot of properties which have been bordering on commercial design and it could be said that Rindge falls into this category. It has an extremely corporate design, although this also correlates with a very modern image. Such an appearance is created via the most modern construction methods, with metal cladding, a flat roof and a huge amount of glass being the main factors.
In relation to the glass, this is something that is obvious from a distance. All of the windows and doors span from floor to ceiling and are coated in glass - with this being prevalent on every single level. Furthermore, with multiple elevations benefiting from such an appearance, it means that occupants have a large amount of natural light entering the building. Furthermore, the building spans three storeys, and this means that occupants will be able to obtain great views of the localities.
Another feature of Rindge is the garage, with this being situated on the ground floor. While this may appear like a basic attachment to the house from this level, when one looks higher they will notice a green roof - which provides a pleasant, external social area for the house.
What does Rindge look like internally?
Considering the size of Rindge, the internal design is quite interesting. The architects have installed a lot of slanting walls, which creates an intriguing appearance to say the least. The ground floor consists of a living, dining and kitchen area, with all of this being open plan. There is also a master bedroom suite, with this containing a closet and en-suite bathroom. Considering the fact that these are the only features of the ground floor, it would be fair to say that there is a huge amount of excess space.
The first floor is comprised of bedroom space, with both of the other two rooms situated at this level. There is also a family bathroom, with a bath already installed, while there is a vast amount of closet space which has been shaped like an 'L'. Additionally, the green roof space and deck can be accessed from this level.
A summary on Rindge
Rindge can be described as a hugely modern offering and it could be said that its appearance will only be appropriate to a selection of neighborhoods. While its exterior benefits from all of the standard, modern materials, the interior is certainly interesting and the shape of some of the rooms will be very enticing to a lot of potential buyers.
photo gallery
Basic Details
base price:
contact
sq ft:
2,610
base price/sq ft:
contact
bedrooms:
3
baths:
3
garage:
2 car
Includes:
Solar panels
green roof
covered deck