PieceHomes Standard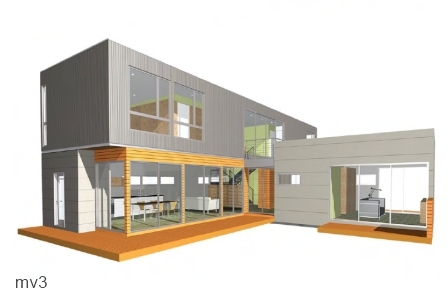 photo gallery






Standard
As the name of this range of products will highlight, the Standard series by Piece Homes focus around their basic prefab offerings which are built with the affordability principle in mind. In total, there are nine products will fall under the Standard umbrella:
2250
MV3
Solar Wall
Solar Passage
Venice 2
Venice 3
The Single
The Double
320
2250
As some may gather through the name of this building, it is set across 2,250 square feet of internal floor space. It boasts four bedrooms, three bathrooms as well as a roof deck.
MV3
The name of this product is less descriptive although for those that are interested, the 'MV' stands for mountain view where the initial design was based while the '3' is there because of the three module approach the building takes. There is a lot of flexibility within this design, with buyers having the choice of having 2-4 bedrooms, while 2.5 or 3.5 bathrooms. Again, it benefits from a roof deck, as well as a carport.
Solar Wall
The extensive use of glass doors is the reason behind the name of this product, while it has managed to incorporate four bedrooms and three bathrooms as well. At 1,910 square feet it is slightly smaller than 2250, but it is still regarded as excellent size for most families.
Solar Passage
The main feature of this product is the large solar panel which has been placed from the top of the building right the way down to the bottom. Such panels cover the entrance to the property, while the inside features three bedrooms and 2.5 bathrooms. Furthermore, for those buyers that require, it can be possible to convert a study room into a bedroom.
Venice 2
Even though this has been designed with narrow plots in mind, the designers have still managed to incorporate 1,825 square feet of floor space. This helps facilitate three bedrooms and 2.5 bathrooms, while it also boasts several outdoor areas to make it a very spacious dwelling.
Venice 3
Even though the name may suggest otherwise, this is a slightly smaller product than Venice 2 with the total floor space amounting to 1,300 square feet. It similarly has three bedrooms, while two bathrooms are also included in the floor plan.
The Single
Piece Homes have again designed this building with the narrow plot in mind, with The Single taking up 1,205 square feet of floor space. Two bedrooms and two bathrooms are part of the property, while it also contains two balconies and a roof deck.
The Double
The Double is quite a strange creation from Piece Homes, with the product made from two Single units pieced together. This means that it will only be applicable to a small niche - perhaps those families who have grown up children who would like to live nearby.
320
At just 320 square feet, 320 is comfortably the smallest product in the Piece Homes Standard range. It contains one bedroom and one bathroom, but still manages to retain a hugely modern appearance that will be appealing to a lot of people.
Piece Homes Standard series:
Basic Details
click on models above for details
Includes:
Factory built modular design
green healthy design features
customizable designs
indoor/outdoor spaces
passive and active solar systems
many with decks / patios