RK4.1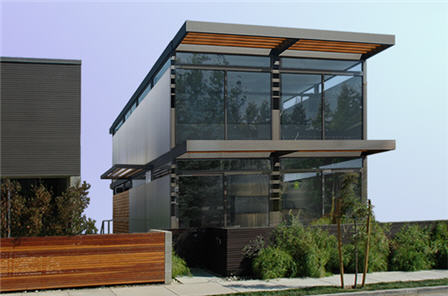 photo gallery





About LivingHomes RK4.1:
RK4.1
If one compares RK4.1 with RK1 and RK2, it is easy to see some major differences. This product from LivingHomes has been designed for those families that have purchased a narrow plot and simply don't have the space to utilize any of the other popular designs from the company. It is 1690 square feet in size and while this may seem small, don't let it detract away from the overall quality which is very impressive indeed.In terms of the basic details of RK4.1, the following can be specified:
Three bedrooms
Three bathrooms
No garage
What is the external design of RK4.1 like?
On the whole, LivingHomes have made quite an effort to incorporate as much glass as possible into their buildings. This is certainly the case with RK4.1, with practically every single panel on the wall being formed out of glass. Unsurprisingly, this means that the property benefits from a lot of natural light and various green requirements are therefore comfortably satisfied.Of course, LivingHomes have not merely designed RK4.1 as a greenhouse. It incorporates many more features than glass, with wood also being quite prevalent in the external design. There is a canopy that extends over the entrance to the building, with this combining well with the roof which is a little sloped.
What is the internal layout of RK4.1 like?
In terms of the floor plan, most of the ground level is taken up by the open plan kitchen, dining and living room. The only other room accessible internally is a downstairs toilet - although it is possible to gain entry into a mechanical room and laundry by stepping out onto the decking and utilizing the doors from there.
There is far more going on in the first floor, with this housing all three bedrooms. It would be fair to say that the two standard bedrooms are formed in a slightly unorthodox way, with no permanent wall separating the two. This has probably been done to provide access to a bathroom, which is situated in between them. Elsewhere on the first floor, there is a master bedroom and master bathroom as well as access to further decking space.
What is the cost of RK4.1?
In comparison to other products in the LivingHomes catalogue, it can be said that RK4.1 is much cheaper. Prices start at $245,000, with this varying depending on the additional options that be included such as sustainable construction methods.
A summary on RK4.1
It can be summarized that RK4.1 is one of the more specific designs from LivingHomes, with the product probably only targeted by those individuals that require a smaller building due to the narrow width of the plot.
However, while the cost might be much less than other buildings by the architect, the quality remains intact. The large amount of glass might not be favored by everyone, but few can doubt that it provides the modern image that so many homeowners are craving nowadays. Bearing the above in mind, RK4.1 is most definitely suitable for any occupier ranging from an individual to a medium sized family.
Basic Details
base price:
$425,000
sq ft:
1,690
base price/sq ft:
$251
bedrooms:
3
baths:
3
garage:
no
Base Price Includes:
LEED Silver certification
All finishes - walls/doors/floors/ceiling
All fixtures - lighting/rails/skylights
Structural Insulated exterior Wall Panels
Low-E insulated windows/doors
Roof-top decks/gardens / atrium/patios
Energy Efficient HVAC system
cork tile interior flooring
maple europly cabinets / EnviroGLAS counters
Kohler® High Efficiency fixtures/toilets
KitchenAid appliance package / Bosch Washer/Dryer
recessed LED lighting
Deluxe Built-in closet systems
High Efficiency recessed LED lighting