RK2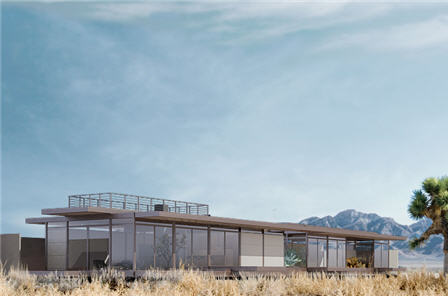 photo gallery





RK2
RK2 can be described as being one of the medium-sized properties in the Living Homes catalogue, with the building boasting a floor space of 2,215 square feet. With a price of $620,200 attached, it would be fair to say that it is probably only open to fairly affluent buyers although some may go the extra yard to finance the house, as it is certainly unique on several levels.
In terms of a simple breakdown of RK2, the following can be specified:
3 Bedrooms
3 Bathrooms
Double Garage
What does the exterior of RK2 look like?
The exterior of RK2 utilizes modern materials to create a very aesthetically pleasing building. Unlike some products that are part of the LivingHomes' catalogue, RK2 uses an incredible amount of glass and practically every wall in the building is formed out of such material. This means that occupants are blessed with lots of natural light - one of the big requirements in modern day construction.
As well as the emphasis on glass, it is clear to see that LivingHomes have tried to make as many external social spaces as possible. For example, a decking area surrounds the building and this is ideal to sit out on. Alternatively, for those looking for a more unique setting, the building also contains a roof deck and this is also ideal for sitting on.
How is the internal space of RK2 formed?
In comparison with most prefab designs, it would be fair to say that RK2 boasts a unique floor configuration. There is little flow throughout the ground floor, with the architects including many corridors so they can incorporate the various decking and vegetation spaces that are part of the outside. Most of the rooms in the building are found on the ground floor, with two bedrooms and one master bedroom all being situated on this level. There is also a master bathroom attached to the appropriate bedroom, as well as another bathroom for standard use. The kitchen, dining and living space is made in open plan format and takes up around half of the floor, while it's also possible to access a laundry area, powder room and decking from this region.
The first level is very basic and covers much less floor space. One can find an office in this area, as well as a bedroom which has its own en-suite bathroom. This is the part of the house which provides access to the roof deck as well.
A summary on RK2
In summary, RK2 can be described as another excellent offering from LivingHomes. The size and price tag means that it is probably only suitable for those individuals who are willing to invest a relatively large sum in their house, although some may feel as though the design of the property merits further financing. It's low design and emphasis on glass makes it an extremely modern creation and with RK2 also containing office space as well, it could even be possible to convert it into a dwelling with even more bedrooms than it was initially designed for.
Basic Details
base price:
$620,200
sq ft:
2,215
base price/sq ft:
$280
bedrooms:
3
baths:
3
garage:
2 car tuck under
Base Price Includes:
LEED Silver certification
All finishes - walls/doors/floors/ceiling
All fixtures - lighting/rails/skylights
Structural Insulated exterior Wall Panels
Low-E insulated windows/doors
Roof-top decks/gardens / atrium/patios
Energy Efficient HVAC system
cork tile interior flooring
maple europly cabinets / EnviroGLAS counters
Kohler® High Efficiency fixtures/toilets
KitchenAid appliance package / Bosch Washer/Dryer
recessed LED lighting
Deluxe Built-in closet systems
High Efficiency recessed LED lighting