RK1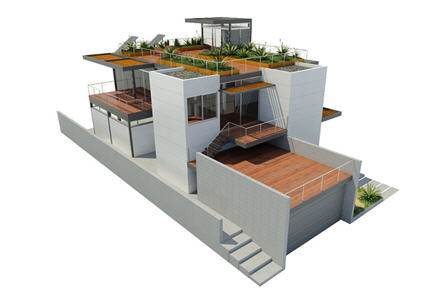 photo gallery




RK1
With RK1 costing a base price of $868,000, few people would disagree that it has been designed for the affluent buyers out there. Measuring 3,100 square feet in size, the property is huge and will be a dream home for those individuals who are looking to invest. Its design is unique to say the least and the multiple roof decks and modern materials will be very alluring to a lot of potential buyers.
The following can provide a simple breakdown of RK1 and highlight the basic features:
Five bedrooms
Four bathrooms
Double garage
What is the external design of RK1 like?
Unfortunately, it is very easy to tell that a lot of prefabricated buildings have been "mass produced", with most possessing no unique qualities. RK1 certainly goes against this grain, with the external design of the building looking impressive to say the least. On first view, it is unquestionably the roof decks and terraces that are the big features, with RK1 possessing various spaces that are perfect for social events. These are generally accessed through balconies - which happen to be another feature.
In relation to the rest of the exterior, RK1 utilizes solid, grey materials to create the main elements. All roof decks are constructed out of wood, which combines superbly with the rest of the exterior, while any window that does exist does so in large glass panel form - allowing for plenty of natural light into rooms.
What does the internal design of RK1 look like?
With RK1 being a huge property, one will not be surprised to read that it contains countless rooms. On the ground floor, one is presented with a large living area, which can also be used as a dining room. Unlike a lot of prefabs, the kitchen is separate, while the ground floor also contains one master bedroom along with a master bathroom. Smaller rooms include laundry space, powder room and entry to a deck - while it's also possible to access the double garage from the house.
The first floor is mainly comprised of bedroom space, although there is also an office, laundry and powder room. There is again one master bedroom and bathroom, while there are a further three standard size bedrooms. It's possible to access various roof spaces on this floor, with all being positioned just off the bedrooms.
A summary on RK1
RK1 is unquestionably one of the most prestigious prefabs that you can purchase, with the property being huge in size and ideal for any large family. As well as the internal space, the outside decking is a very impressive and that alone will be one of the reasons why many people will be attracted to this prefab.
Due to the unique size and price of RK1, few people would question that the property has been built for the residential market. This is probably one of the most impressive features about the building, as it looks completely different to most prefabs out there which can sometimes be viewed as having a "manufactured" and commercial appearance.
Basic Details
base price:
$868,000
sq ft:
3,100
base price/sq ft:
$280
bedrooms:
5
baths:
4
garage:
2 car tuck under
Base Price Includes:
LEED Silver certification
All finishes - walls/doors/floors/ceiling
All fixtures - lighting/rails/skylights
Structural Insulated exterior Wall Panels
Low-E insulated windows/doors
Roof-top decks/gardens / atrium/patios
Energy Efficient HVAC system
cork tile interior flooring
maple europly cabinets / EnviroGLAS counters
Kohler® High Efficiency fixtures/toilets
KitchenAid appliance package / Bosch Washer/Dryer
recessed LED lighting
Deluxe Built-in closet systems
High Efficiency recessed LED lighting