GreenPod PortTownsend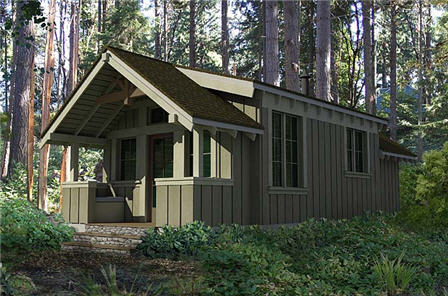 photo gallery



PortTownsend can only be described as another country offering from GreenPod, with this design incorporating various traditional themes that make it perfect for certain settings. However, due to the fact it is only 420 square feet in size, it will only appeal to either individual buyers, couples or those families who wish to purchase a holiday home dwelling.
What is the general design of PortTownsend?
Anybody who has any sort of knowledge of other GreenPod designs will know that the company are renowned for making the living room, kitchen and dining area open plan. However, it looks as though they have gone one step further with PortTownsend, with this building being practically like a studio. While there is a slight divide between the bedroom and main living area, there is a large opening and this means that it is practically the same room. On the subject of the bedroom, this is huge in size and the architects have even incorporated a desk at the base of the room to highlight how much excess space there is. There is also a family bathroom which can be accessed from the bedroom, while GreenPod have included large closet space that is situated right next to this bathroom.
It is generally assumed that every product that GreenPod make has one bedroom. This is somewhat untrue with PortTownsend, as the architects have been very creative with space management and have included a pull down bed in the living space. This means that the property actually contains two beds – albeit just one main bedroom.
What does the exterior of PortTownsend look like?
There is absolutely no doubt that GreenPod have attempted to include as many traditional themes in the construction of PortTownsend as possible. It is constructed from large vertical panels that are pained in a light color and from some perspectives, this makes the building look as though it has been formed out of some sort of wood. The architects have also included fake pillows which add to the traditional theme, while the small roof over the porch area along with a full set of visible roof trusses and beams makes the whole style very impressive.
GreenPod have undoubtedly made extra effort to make the porch area something of a feature in the building. As well as the separate roof, they've also incorporated benches which make it a potentially lovely place to sit out and admire the surroundings.
A summary on PortTownsend
GreenPod have made every effort to make PortTownsend one of their most traditional offerings and all the marketing material paints it in a hugely encouraging style in its countryside surroundings. They have also been slightly more inventive with the internal space and while some may see the large opening that leads to the bedroom a little intrusive, it at least makes the whole internal space appear larger. Moreover, the pull down bed is a really nifty feature from the architects and means that this property could actually sleep four people, which is amazing considering its small size.
Basic Details
base price:
$85,000+
sq ft:
420
base price/sq ft:
$202+
bedrooms:
1
baths:
1
garage:
no
Base Price Includes:
Energy efficient windows / doors
2% waste in construction
Cement siding
Insulation - 2x6 with bat insulation
Sustainable floorings
Recycled countertops
Energy Star appliances
Low flush / water saving plumbing
"Greener" and "Greenest" package options:
Sips panels (60% energy savings)
All FSC certified wood and windows
100% recycled metal roofing
Ultra indoor air quality - non toxic cabinets
Solar panels and/or hydronic heating
Green roof / composting toilets / generators
Car charging
Interior packages - furnishings, spa