GreenPod Langley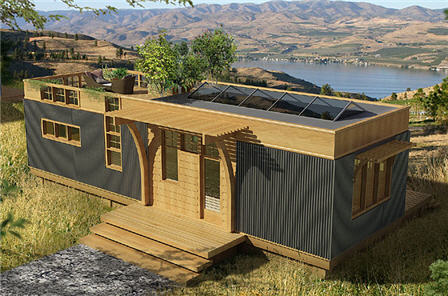 photo gallery





Langley is one of the slightly bigger offerings from GreenPod, with this prefab being 731 square foot in size. However, while it is bigger than the majority of other products in the catalogue, Langley still only possesses one bedroom which makes it restrictive for families. Nevertheless, the property contains many other features which make it another very popular house within the GreenPod range.
What is the general design of Langley?
Langley is another design from GreenPod that only has one floor and in simple terms, this floor can be described as being cluttered. Of course, this is not in a bad way and while there are plenty of different rooms, they are positioned in such a way that will make Langley appeal to a large audience. Around one quarter of the building is taken up by a large bedroom, which is more than capable of facilitating one double bed amongst other furniture and closet space. The family bathroom is situated right next to this room for easy access, while the other half of the house is made up of kitchen, dining and living area. At this point it is probably worth mentioning the fireplace that is part of the living room, with many buyers impressed with this which is something of a feature.
It has been stated through this information that Langley is a one story property and while this is true to some extent, it should also be stated that the building does benefit from a roof terrace. The terrace is completely picturesque and guarded by fencing, while its route of access is very impressive as well. This is yet another feature of Langley, with the spiral staircase that is situated on the outside of the property leading to the terrace that has just been described.
What does the exterior of Langley look like?
It is sometimes hard to establish the style that GreenPod are attempting with several of their products, yet that certainly is not the case with Langley. This building is designed with modern principles in mind, with the external materials of wood and corrugated metal combining to provide a very stylish finish. Moreover, the roof also compliments this style, with this being flat apart from a small pyramid of windows in the centre.
On the subject of windows, Langley probably relies on these roof windows more than any of its other openings for natural light. There are very few situated around the walls of the building, with occupants benefiting from the roof light instead.
A summary on Langley
In comparison with most of GreenPod's other products, there's no doubt that Langley is quite different and the manufacturers have taken a purely modern approach with the design. Such a policy certainly appears to have been successful, with Langley arguably being one of the most stylish products in the catalogue. Its exterior looks fantastic, while the roof terrace and spiral staircase just top it off. Unfortunately, it would appear unlikely for Langley to be suitable for commercial use, yet for a small dwelling it is second to none.
Basic Details
base price:
$150,000 +
sq ft:
731
base price/sq ft:
$205
bedrooms:
1
baths:
1
garage:
no
Base Price Includes:
Energy efficient windows / doors
2% waste in construction
Cement siding
Insulation - 2x6 with bat insulation
Sustainable floorings
Recycled countertops
Energy Star appliances
Low flush / water saving plumbing
"Greener" and "Greenest" package options:
Sips panels (60% energy savings)
All FSC certified wood and windows
100% recycled metal roofing
Ultra indoor air quality - non toxic cabinets
Solar panels and/or hydronic heating
Green roof / composting toilets / generators
Car charging
Interior packages - furnishings, spa