CH Mini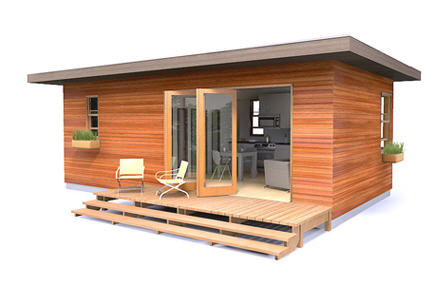 photo gallery





In comparison to most other prefab architects, Clever Homes are not usually very descriptive with the names of their buildings and it is left for one to read the specification to find just what is on offer. However, few people should have any problems in determining what the CH Mini is, with this offering being the smallest in the catalogue and spanning across just one floor.
What is the general design of the CH Mini?
As you may expect, there is little to report in regards to the internal design of CH Mini as it is such a small space. The vast majority of the building is composed of an open plan living, dining and kitchen area - with this taking up well over half of the internal zone. From this region, one can access a family bathroom, along with a master bedroom that has a small amount of closet space. A patio is also constructed just outside the property and this is accessed through doors that lead from the living area. The total internal dimensions for CH Mini are 16' x 30'.
What does the exterior of CH Mini look like?
Despite being the smallest product that Clever Homes have manufactured, CH Mini still possesses the style and elegance that have made the company such a successful prefab developer. Its exterior is mainly constructed of wood and while one may immediately think that this creates a traditional look, it has been finished in such a way that makes it border on modern. The flat roof also contributes to this modern feel, while the patio doors at the front also aid the look significantly.
Is it possible to use CH Mini for commercial reasons?
One of the most impressive factors about Clever Homes is the company's versatility. There is no doubt that their main emphasis is to create stunning residential offerings, yet that doesn't mean to say that their properties cannot be used for commercial reasons. In relation to the CH Mini, it is not unheard of to use this building for business purposes. Although small, it will be sufficient enough for some small businesses to have an open plan office area and of course the required bathroom facility.
How much customization is offered to the end buyer?
Due to the small size of CH Mini, it is very difficult to customize the interior. In fact, the company do not make any suggestions that this can be performed and if you do wish to make any alterations, these will probably have to be performed after the purchase.
However, it is possible to make certain changes to the exterior. For example, some buyers have decided to acquire a butterfly roof rather than the standard flat, while the finish of the wood panels varies from customer to customer with some looking for a rustic look, while others will try to touch it up to make it as modern as possible. As you may expect, any change to the roof design is likely to result in an additional cost to the base price of $48,000.
Basic Details
base price:
$48,000
sq ft:
480
base price/sq ft:
$100
bedrooms:
1
baths:
1
garage:
optional
Base Price Includes:
shell/roof/doors/windows/
unfinished interior walls/ceilings
exterior siding
EPDM membrane roof
Insulation - wallsR19/floorR35/ceilingR45
interior flooring
cabinets/counters/vanities
appliances
sinks/toilets/fixtures
heating/cooling / electrical/lighting