CH 7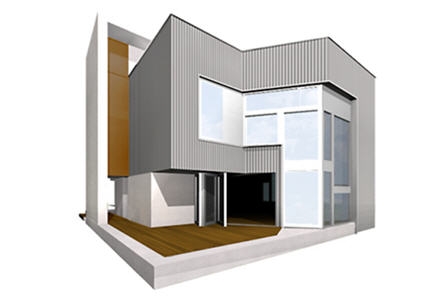 photo gallery





CH7 is another incredibly unique offering by Clever Homes, with this product boasting a tall exterior that makes for an extremely modern style. As well as the height, there is a large emphasis on glass and this means that CH7 is also blessed with plenty of natural light.
What is the general design of CH7?
Just like practically every product in the Clever Homes catalogue, CH7 is designed in such a way that means it's really up to you how many bedrooms there are. Some people will arrange the rooms so there are three, while others may opt to have four or five. The reason why there is so much flexibility in this regard is because CH7 is spanned over three floors, meaning there is plenty of space to arrange your home around.
The ground floor of the property can be described as almost completely open plan. The dining and living area is at the center of the floor, while small kitchen zone is situated in one corner. There is also a toilet and storage area right next to the entrance porch.
The first floor is then focused more on bedroom space. There are two main bedrooms, with both of these capable of holding double beds. There are also further rooms which could be utilized as bedrooms, while there is a family bathroom positioned by the stairs.
The third floor is even tighter and solely features on the master suite. This is much bigger than other bedrooms in the house, while it also benefits from an en-suite bathroom. However, while the master suite is impressive, most people will be more taken in by the outside roof deck. This is huge in size and is accessed through a door to the side of the stairs.
What are the key internal features of CH7?
Due to the fact that the basic CH7 arrives with unfinished walls and ceilings, it is difficult to describe the main internal features of CH7. Nevertheless, anyone who does purchase this design will benefit from bold internal structures, such as high ceilings and a mezzanine floor. The company also provide customers with the option of a wood finish across walls and floors and this provides an extremely modern style.
What do the elevations of CH7 look like?
As mentioned previously, glass plays a large part in the design of CH7 and is prevalent on most walls. In other areas, white rendered block work usually occurs, while there is also some cladding that gives off a metal profile appearance. The whole shape of the building is very unorthodox although many would argue that this creates a modern image.
A summary on CH7
Just like most products in the Clever Homes catalogue, CH7 is hugely varied in comparison with other buildings. It still manages to incorporate the modern principles that have kept other houses from the company successful, with the high ceiling and emphasis on glass being key to this. The internal design is also highly impressive and the fact that buyers can customize the bedroom arrangement makes the property even more appealing to a lot of groups.
Basic Details
base price:
$150,000 - $250,000
sq ft:
1,500 - 2,500
base price/sq ft:
$100
bedrooms:
2 - 4
baths:
1.5 - 3.5
garage:
2 car - optional
Base Price Includes:
shell/roof/doors/windows/
unfinished interior walls/ceilings
exterior siding
EPDM membrane roof
Insulation - wallsR19/floorR35/ceilingR45
interior flooring
cabinets/counters/vanities
appliances
sinks/toilets/fixtures
heating/cooling / electrical/lighting