CH 14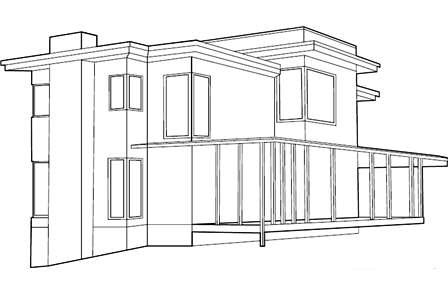 photo gallery





Just like most of the properties that Clever Homes design, CH14 can be customized in a variety of ways and the fact that one can benefit from two, three or four bedrooms highlights this fact. Away from the size, the CH14 can be described as more traditional in comparison to other designs, while it is quite rigid and muscular.
What is the general design of the CH14?
The CH14 is designed across two floors. Most products that Clever Homes manufacture place most of the emphasis on one level - usually the ground floor. However, it would be fair to say that the CH14 is evenly balanced with both floors benefiting from a similar number of rooms across an almost identical size.
The ground floor is largely composed of an open plan living, kitchen and dining area and this takes up over half of the level. There is also a downstairs toilet and while Clever Homes don't actively promote that there are two bedrooms in this region, it is certainly possible to make such arrangements. The company have classed one room as a study and another as multi-purpose and with both being large enough to hold at least a single bed, there is no reason why one could not use these spaces as extra bedrooms. It is also possible to access the garage from the house, with this space being big enough to facilitate two cars.
As you may expect, the first floor is mainly bedroom space. There are in total three bedrooms - with one of these being classed as a master suite. This master suite is exceptionally big, has vast closet space as well as its own bathroom plus separate toilet. The floor benefits from a family bathroom as well, which is useful for the other two bedrooms.
What does the exterior of CH14 look like?
Some would say that CH14 boasts an extremely rustic feel, with a large emphasis on wood making for a very traditional look. However, Clever Homes have also focused on some modern features and the windows or example are tall and thin and this creates a very unique image. It also means there is plenty of natural light for the building, although those on the ground floor can benefit from some privacy due to the wood shutter-like components that have been inserted in front of the living room.
A summary on CH14
It has to be said that CH14 is nowhere near as modern as many of the other buildings that Clever Homes produce. Nevertheless, it is not entirely traditional and some would say it has been designed like a country mansion. While many products from Clever Homes can usually be used in a commercial setting, this is probably not the case with CH14 as this is a building which really has been designed with the residential consumer in mind. It has a large emphasis on bedroom space and many potential purchasers will be pleased with the fact they can have either two, three or four bedrooms depending on their needs.
Basic Details
base price:
$150,000 - $250,000
sq ft:
1,500 - 2,500
base price/sq ft:
$100
bedrooms:
2 - 4
baths:
1.5 - 3.5
garage:
2 car - optional
Base Price Includes:
shell/roof/doors/windows/
unfinished interior walls/ceilings
exterior siding
EPDM membrane roof
Insulation - wallsR19/floorR35/ceilingR45
interior flooring
cabinets/counters/vanities
appliances
sinks/toilets/fixtures
heating/cooling / electrical/lighting