CH 10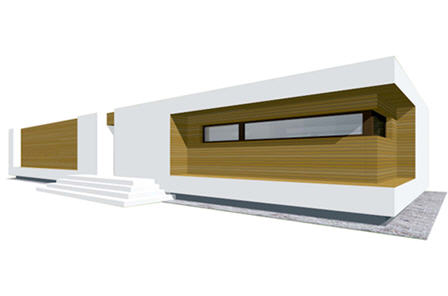 photo gallery





Even though CH5 and CH8 differ enormously, it could be said that CH10 falls right in between them. Clever Homes have attempted to mix modern design with a long and low building and the result is exceptionally stylish. It is possible to include two to four bedrooms within this property and while most individuals will opt to use it as a family home, others may see the potential to run their commercial enterprise from such a facility.
What is the general design of CH10?
Considering the fact that most of the properties within the Clever Homes catalogue are based on open plan designs, one may be surprised to see the approach that CH10 has adopted. The living room is completely separate to the kitchen and dining area, with these rooms taking up almost half of the floor. On the other side, the architects have included three bedrooms while there are also two bathrooms and plenty of storage space.
An additional feature of CH10 is a huge patio space. This is accessed from the living room and is based on a wooden platform.
What does the exterior of CH10 look like?
It has been stated previously that CH10 is another completely unique offering from Clever Homes. The main reason why it stands out so much is due to its height, which is low due to the fact that it is comprised of just one story. When such a low height is combined with such long elevations, the result really is eye-catching.
In relation to specific materials, the main thing that will catch your attention is the amount of white rendering that has been implemented on the exterior. This makes a very exotic look, while the inclusion of wood panels adds to the stylish image and really creates something special for the end buyer.
At this point it is probably worth highlighting the amount of planting area which is dotted around the building. Many show houses that Clever Homes have manufactured for CH10 include lots of vegetation and this combines fantastically well with the above materials to make an even more impressive effect.
A summary on CH10
There's no doubt that Clever Homes have been hugely successful with their CH10 product and it will appeal to a huge market of people due to its modern features. Of course, while the exterior is very easy on the eye, it's easy to forget that the CH10 is gifted from an internal point of view. The fact that buyers can make use of four bedrooms is very impressive, while it is also a refreshing change to see that the kitchen is separated from the living space – something which is in stark contrast to the majority of designs from Clever Homes.
Of course, while most people will look at CH10 as a residential offering, it is designed in a way that could make it suitable as a commercial building. The layout of the property means that some businesses could quite easily use it as a base and this could be something that potential buyers consider.
Basic Details
base price:
$215,000
sq ft:
2,150
base price/sq ft:
$100
bedrooms (CH1/CH1.5):
3
baths (CH1/CH1.5):
2
garage:
2 car
Base Price Includes:
shell/roof/doors/windows/
unfinished interior walls/ceilings
exterior siding
EPDM membrane roof
Insulation - wallsR19/floorR35/ceilingR45
interior flooring
cabinets/counters/vanities
appliances
sinks/toilets/fixtures
heating/cooling / electrical/lighting