nottoscale Podulome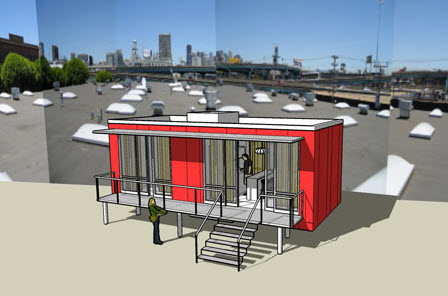 photo gallery





Podulome
who doesn't possess too much experience or knowledge in the prefabs industry probably won't be too sure about the type of product that Podulome claims to be. While Nottoscale refer to the majority of their buildings by a shape, anyone who is not familiar with the pod concept in the construction business is going to be unsure about what this property offers.
In short, Podulome is the smallest building in the Nottoscale range. Measuring just 400 square feet, it is designed for individuals who will have just one bedroom to take advantage of. For a simple breakdown, the property can be described as the following:
One storey
One bedroom
One bathroom
100 square foot outside decking space
What does the exterior of Podulome look like?
There's no doubt that from an internal point of view, Podulome looks very different to most products in the catalogue. This is probably due to the finish, with the company deciding to release marketing material that show the building finished in a red wood paneled effect. Of course, should a buyer request, it is most likely possible for this to be altered to a different color depending on the intended environment.
The architects behind Podulome have attempted to install as much glass into the front of the property as possible, with practically the whole facade being made of this material. Most of this glass is in patio door form, with this leading out onto an elevated balcony. It should be mentioned that this region differs enormously from others that Nottoscale have included on their other products, as it is not constructed out of wood and is instead made of metal. Furthermore, it is much smaller, although will still allow for occupants to sit out and enjoy their surroundings.
What does the interior of Podulome look like?
As you would expect from such a small unit, the internal floor plan design of Podulome is very basic. It is split into two halves, with one side comprised of a bedroom and bathroom, while the other is the kitchen, living and decking space. It should be mentioned that in relation to the former, the bathroom does not contain either a bath or shower and merely a toilet and basin. Furthermore, just like all of the products in the Nottoscale catalogue, the architects have decided to make the general living space open plan - presumably to save on space in this occasion. Such a region leads out onto the balcony, which can prove quite convenient for occupants.
A summary on Podulome
It would be fair to say that Podulome is a completely different offering to most of the products that are found in the Nottoscale catalogue. Still, even though it is significantly smaller, the architects have managed to use all of the principles that have made their brand so successful in the past. This means the open plan design, wood paneled exterior and outside balcony amongst other features are all included in the property, only on a smaller scale.
Basic Details (miniONE / miniTWO)
est. basic price:
contact nottoscale
sq ft:
400
base price/sq ft:
contact nottoscale
bedrooms:
studio / 1
baths:
1 / 1
garage:
no
Contact nottoscale for more details