nottoscale H-Modulome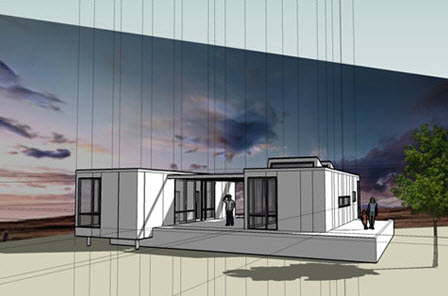 photo gallery


H-Modulome
With most of the Nottoscale designs having some resemblance to their name, few people will be surprised to see that H-Modulome is more or less shaped like a H. The product boasts an identical floor size to T-Modulome, meaning that the main difference is the general layout.
In simple terms, H-Modulome can be described by the following specification:
One storey
Three bedrooms
Two bathrooms
What does the exterior of H-Modulome look like?
From an external perspective, there really isn't too much difference between H-Modulome and T-Modulome when it comes to the choice of materials. Again, Nottoscale have relied on a white wood finish, with this providing a very modern appearance when it is combined with other features such as a flat roof.
A lot of people have questioned just how the company have managed to create a feasible H-shaped design, as this sounds unorthodox at best. Some would argue that it isn't quite a H-shape, as while there are two vertical modules to the building which sit parallel to each other, they are not actually connected together via another module but by the roof to some decking instead. Nevertheless, from a birds-eye perspective, this does create the H image. It is worth mentioning that it is this central piece of the building that boasts the most amount of glass, with large partitions from both modules being prevalent.
On the subject of the decking, Nottoscale have again implemented plenty of it. It has proved to be a favorable feature in all of their products and with a total of 1,115 square feet of decking running around the house, potential buyers are going to have access to a lot of outside space to admire the surroundings.
What does H-Modulome look like internally?
Anyone who is familiar with T-Modulome might be able to spot the similarities with this product. While the layout of that product is T-shaped, H-Modulome merely takes the bottom portion of that building and places it parallel to the other building. This means that the living space is on one side of the decking, while the bedrooms are situated opposite.
The living area of H-Modulome has been constructed using the open plan form, with the kitchen, living room and dining space all being situated together. From these rooms, it is possible to access a storage room as well as a large study. The size of this study means that some occupants might decide to use it as a bedroom.
The opposite side of the property is made up of bedrooms and bathrooms. As the specification highlights, there are a total of three bedrooms - with the master one also possessing an en-suite. For convenience, the architects have placed the family bathroom in between the other two double bedrooms.
A summary on H-Modulome
Even though the shape of H-Modulome is completely different to other products, anybody who has looked through Nottoscale's catalogue will appreciate that it is based on all of the company's main principles. It's a hugely modern offering and with so much outside decking space and three bedrooms to its name, H-Modulome could be the ideal choice for a lot of families out there.
Basic Details (miniONE / miniTWO)
est. basic price:
contact nottoscale
sq ft:
1,176
base price/sq ft:
contact nottoscale
bedrooms:
studio / 1
baths:
1 / 1
garage:
no
Contact nottoscale for more details