Blu Homes Origin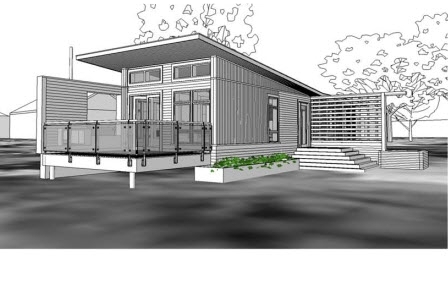 photo gallery






Out of all of the prefab developers in the world, most decide to name their products with meaningful classifications that make them easy to relate to. However, this certainly isn't the case with Blu Homes and the first product in their range really gives little away. Therefore, in a bid to clarify the building, it's worth pointing out that Origin is the smallest offering that Blu Homes produce. It has been designed mainly for residential purposes although just like with most designs, it can be adopted for those individuals who have a commercial use in mind.
While it has been stated that Origin is the "baby" of the Blu Homes range, don't be fooled into thinking that the series is tiny in size. The company have been quite creative in their development of this product and its actually possible to purchase three different designs, each which is of a different size.
What is the general design of Origin?
As touched upon earlier, there are three designs included in the Origin range and this means it's impossible to describe the general design for all of them. Looking at the first product, the studio, little needs to be explained as the bedroom, kitchen and living area are all situated in one space. There is a small bathroom that comes off from this space, while buyers are also presented with a pleasant decking area that spans around the building in an L-shape.
The second product within Origin is a one bedroom version. As you would expect, this is slightly bigger and boasts a master bedroom in the corner of the property. Practically everything else remains the same, including the decking area which is of an identical shape.
The final product within Origin is even bigger and boasts two bedrooms. While this offering is bigger than the other two, its design is almost identical and merely has another bedroom slotted beside the one that was prevalent in the one bedroom product. This second bedroom is slightly smaller, although is still suitable for a double bed.
How much does Origin cost?
As you would expect, the cost of Origin greatly depends on what option you select. Fortunately, Blu Homes have provided various specifications that highlight the price of each offering, with the studio firstly possessing a base price of $130,000. The price will then rise to $155,000 for the one bedroom option within Origin, while it will then increase again to $185,000 for the 2 bedroom offering. It is worth mentioning that these prices will increase for those individuals living in either California or Canada, while one should also look into the preparation and decorating costs which are not factored into the above totals.
A summary on Origin
It is clear to see that while Origin is the smallest range within Blu Homes, the company have still given customers maximum flexibility by producing three separate designs. All are of exceptional modern construction and with the prices starting at such low figures, it's no surprise to see that Origin has been received very well by the market.
Basic Details
base price:
$64,000/$72,000/$83,000
sq ft:
408/476/595
base price/sq ft:
$157/$151/$140
bedrooms:
studio - 1
baths:
0.5 - 1
garage:
optional
Base Price Includes:
Recycled concrete sub-floor, exterior decking
Recycled content steel framing
50%+ recycled content floors and counters
Insulation: R-45 walls / R-40 roof / R-4 windows
No VOC paint, formaldehyde-free millwork / cabinets
Natural light/ventilation and passive solar design
On-demand hot water, hot and grey water recovery
LED lighting, exhaust-free high efficiency HVAC