Blu Homes Evolution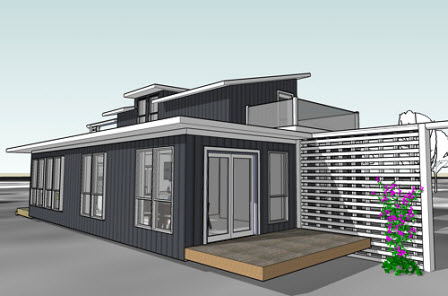 In comparison to other products by Blu Homes, few people can argue with the fact that Evolution is a completely unique building. It is one of the only properties within the Blu Homes catalogue that boasts more than one level and this means that many families are turning towards the solution for a family home. Despite this, the product is not priced extravagantly and is actually one of the cheaper solutions from the company. Moreover, it boasts from various eco-friendly design factors and anyone interested in purchasing the building can decide to acquire either one that includes three bedrooms or one that has four.
What is the general design of Evolution?
As stated previously, Evolution is based on two separate designs although the internal space is exactly the same within both. Starting with the three bedroom building, the first floor of this design is mainly comprised of a kitchen, dining and living area which is of open space format. At one side of the house there are two bedrooms, both capable of holding double beds, alongside a family bathroom. Half of the first floor is surrounded by a decking area, which is accessible from the living space. The second floor is mainly dominated by a master bedroom, which takes a strange L-shape form. This bedroom also boasts an en-suite, while there is a small sitting area that stretches out onto a balcony area.
The four bedroom offering is almost identical, with the only difference occurring on the second floor. While the previous product had a small lounge area on this level, this next building decides to utilize this space as a fourth bedroom. However, there is no balcony attached to this room, which some will view as detrimental.
How much does Evolution cost?
Even though one can purchase Evolution in various designs, the company have specified just one cost with this being $310,000. However, this is the absolute minimum that you can expect to pay for Evolution and it is likely to be much more expensive. For example, you will have to factor in all of the necessary preparation work and decorating, while Blu Homes will charge a delivery fee which is dependent on where you are based in the world. For those individuals who own a car, it is possible to acquire a garage to attach to the property although this will cost a minimum of $35,500.
A summary on Evolution
There's no doubt that Evolution differs considerably from other products by Blu Homes, as this is a building that is stretched across two levels as opposed to the one floor that most possess. As it has that increased floor space capacity, it's been possible for Blu Homes to incorporate more bedrooms and this means that more and more families are turning to this solution. Furthermore, even though it's possible to purchase a four bedroom solution under the Evolution umbrella, it still works out very cheap in comparison to other products that the company manufacture and many think that this is one of the better value houses from Blu Homes.
Basic Details
base price:
$188,600
sq ft:
1,400
base price/sq ft:
133
bedrooms:
3+
baths:
TBD
garage:
optional
Base Price Includes:
Recycled concrete sub-floor, exterior decking
Recycled content steel framing
50%+ recycled content floors and counters
Insulation: R-45 walls / R-40 roof / R-4 windows
No VOC paint, formaldehyde-free millwork / cabinets
Natural light/ventilation and passive solar design
On-demand hot water, hot and grey water recovery
LED lighting, exhaust-free high efficiency HVAC