Blu Homes Balance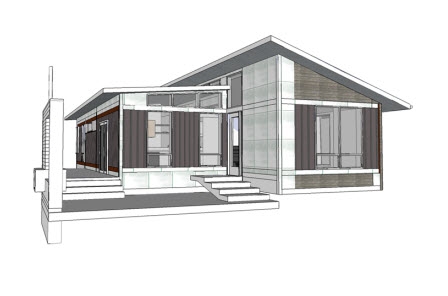 photo gallery






Just like all of Blu Homes' designs, it's impossible to gauge what Balance offers by simply glancing at the name. In fact, even after being met with a detailed description of this product, many have concluded that they are unsure on why the company have decided to call it by this name. In short, Balance is a modern offering that has a sloped roof with unusually high ceilings. It is regarded as much more luxurious offering than Origin, while it can be purchased in two designs for those customers that have varied requirements.
What is the general design of Balance?
It's possible to acquire Balance in two designs, one which boasts three bedrooms while the other has two. However, despite the varied designs, the floor space is the same with both having footprints of 60 x 36 across just the one level.
In terms of the two bedroom design, the main space of this is divided into an open plan kitchen and living area, with some buyers opting to include a dining zone as well. From this area of the property, there is a door to a small corridor which is where the two bedrooms are situated. The main bedroom boasts an en-suite facility while it also has vast closet space in a segmented area of the room. The secondary bedroom is designed in a bizarre way as this is accessed through the family bathroom. However, in some ways this means it at least has its own en-suite as well. As is the case with most products from Blu Homes, Balance also contains a large decking area which circles most of the house.
Due to the similarities in size of Balance, one will not be surprised to hear that there are few design changes when we look at the three bedroom offering. In fact, the only difference is that the living area is cut down in size somewhat, to make space for the third bedroom which is situated in the opposite corner of the house to the other ones. The three bedroom building also has a decking space which is exactly the same size.
How much does Balance cost?
Even though there are two separate designs that can be purchased within the Balance range, the company only provide one pricing structure. This is probably because the overall size remains the same and means that customers will generally pay a base price of $335,000. This can increase depending on the area that one lives and the company make no secret of the fact that Californian and Canadian residents will pay more. Moreover, other prices such as foundation costs, local regulations and various other issues are not incorporated into this total. It's also worth mentioning that the company can supply a garage with this model, with this costing approximately $35,500.
A summary on Balance
There's no doubt that Balance is a massive step up from the Origin range by Blu Homes and this is emphasized in the price. However, those customers that do purchase this building will get access to an extremely modern offering - with the high ceilings and sloped roof being hugely significant in this end result.
Basic Details
base price:
$162,000
sq ft:
1,200
base price/sq ft:
$135
bedrooms:
2+
baths:
TBD
garage:
optional
Base Price Includes:
Recycled concrete sub-floor, exterior decking
Recycled content steel framing
50%+ recycled content floors and counters
Insulation: R-45 walls / R-40 roof / R-4 windows
No VOC paint, formaldehyde-free millwork / cabinets
Natural light/ventilation and passive solar design
On-demand hot water, hot and grey water recovery
LED lighting, exhaust-free high efficiency HVAC