Tall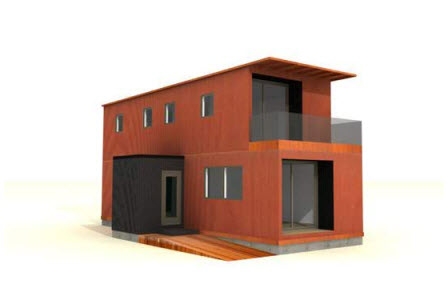 photo gallery





Tall
It appears as though Alchemy Architects try to be as descriptive as possible when they name their products, although they may have caused some confusion with their Tall offering. While this building is taller than products such as Studio and Pair, it is still only two stories high. Nevertheless, it has been received very well by the market with most appreciating the simplistic, module approach that has proved so successful in their buildings that have spread out over just the one level.
What is the basic design of Tall?
Even though Tall stretches over two stories, there are actually fewer bedrooms in this design than Pair. The ground floor of the building is comprised of a kitchen and dining area, with a downstairs toilet coming off it. At the opposite end of the building is a living area and a front entrance porch. There are two slightly different models that can be purchased in the form of Tall A and Tall B. Should one purchase the latter, they will have a small wooden decking area that has large glass panels situated on the kitchen wall. Tall A on the other hand boasts smaller windows, although customers at least benefit from several advantages associated with the first floor.
As you may have guessed, the bulk of the first floor is made up from bedrooms. The master bedroom is perhaps the highlight of this floor, as it possesses double doors that stretch onto a balcony. Those individuals that purchase Tall A will have a roof on this balcony, which can prove useful in situations involving adverse weather. At the opposite side of the building is a slightly smaller bedroom, although it is still possible to fit a double bed or two single beds in it. In between both rooms is the staircase and a family bathroom.
How much does Tall cost?
Considering the fact that Tall is comprised of two stories, many people are surprised when they read that the cost of the prefab is less than Alchemy Architects' other offering, Pair. The company price the building between $175,000 and $199,000, with this figuring varying depending on which fixtures and fittings are included in your purchase.
It is worth mentioning that these prices do not include the cost of shipping and depending on your location, you should make a high provision for this element. If you are just planning to utilize Tall for temporary purchases, it might be worth looking at some companies that offer to hire the building out for short period of times.
A summary on Tall
A lot of people purchase a solution from Alchemy Architects for a variety of purposes, whether it is for commercial or residential reasons. However, this is generally different with Tall, with the design of this building meaning that it is generally only suited to those people who are looking to live out of the building. Due to the fact that it contains all of the modern fixtures and fittings that are prevalent in all of the company's other products, those who decide to progress down such a route will certainly be providing themselves with a lovely home.
Basic Details
basic "kit" price:
$175,000 - $199,000
sq ft:
1,335
kit price/sq ft:
$131 - $149
bedrooms:
2
bathrooms:
1
garage:
no
Base Price Includes:
Low-E Anderson windows and doors
EPDM membrane roof
weathered steel siding
Insulation - wallsR19/floorR35/ceilingR45
painted interior walls/ceilings
prefinished bamboo flooring
IKEA cabinets | Plumbing fixtures
design costs / site layout / approval drawings
Prewired 200a electrical / recessed lighting
Appliances, washer and dryer