Pair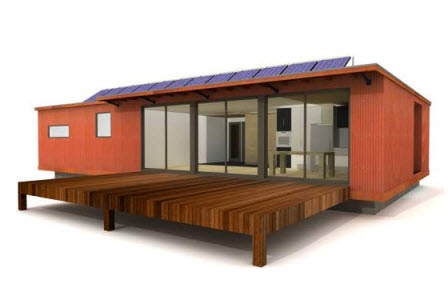 photo gallery






Pair
When one views the specification of the Pair house by Alchemy Architects, they may be slightly confused by the name that has been attributed to the product. However, all becomes clearer when the elements of Pair are studied further, with the building making use of two modules to form a larger house that is unquestionably suitable for a small family.
What is the basic design of Pair?
Due to the name of this product, a lot of people assume that there are just two bedrooms. Fortunately, this is not the case and there are actually three bedrooms involved in the design, with two of these appearing at one end of the house while the other appears at one of the opposite corners. The main segment of the building can only be described as open plan with a living room, dining room and full kitchen all being combined into one large opening. Another nice surprise associated with Pair is the number of bathrooms, with the master bedroom benefiting from an en-suite while there is also a family bathroom that is located near the middle-sized bedroom.
The exterior of Pair is very similar to all other offerings from Wee House. Families can benefit from a modern decking arrangement, with this occurring right in front of six glass panels that show the living room area of the house. As you may expect, the middle segments of these panels are sliding doors and this means that the outside is very easy to access and is perfect for any summer occasion. The rest of the building is coated in whatever material the end user requires. While most will select a corrugated steel option, there are many others and some will opt for a wood finish, which perhaps looks a little more natural.
How much does Pair cost?
It would be fair to say that Pair is priced significantly higher than other products from Alchemy Architects, with the guide being between $185,000 and $209,000. Just like the other products from the company, this final price largely depends on the options that customers select in relation to fixtures, fittings and general materials that are used to construct the property. However, even though those customers who purchase Pair can benefit from three different designs, the choice in this regard does not affect the total cost.
Just like a lot of prefabricated solutions, it can be possible to rent Pair from several companies if finances dictate such a course of action.
A summary on Pair
It can definitely be established that Alchemy Architects have made Pair into a completely different product than their other offerings. However, it still maintains the high quality principles that the company instills in all of their products and will arrive with some superb fixtures and fittings, as well as a very solid exterior. Due to the size of Pair, most customers will utilize the building as a house. However, the multi-room nature has meant that some firms have opted to use it as a hub for their business.
Basic Details
base price:
$189,000 - $209,000
sq ft:
1450
base price/sq ft:
$130 - $144
est. finished price/sq ft:
$130 - 144+
bedrooms:
3
baths:
2
garage:
no
decks:
1
Base Price Includes:
Low-E Anderson windows and doors
EPDM membrane roof
weathered steel siding
Insulation - wallsR19/floorR35/ceilingR45
painted interior walls/ceilings
prefinished bamboo flooring
IKEA cabinets | Plumbing fixtures
design costs / site layout / approval drawings
Prewired 200a electrical / recessed lighting
Appliances, washer and dryer