Four Square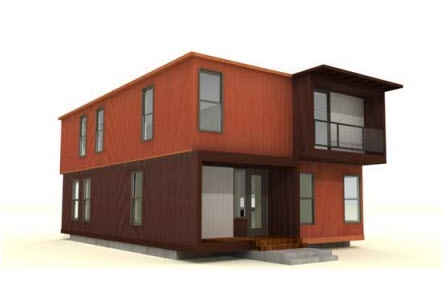 photo gallery






Four Square
Alchemy Architects have developed some impressive prefabricated offerings over the years yet for those customers wishing to taste real size and luxury, the Four Square product is undoubtedly the path to pursue. As you may have guessed, the house is comprised of four modules and this helps create a large house that will be comfortably used by most families. Moreover, in a situation which is very similar to most of Alchemy Architects' other products, it's possible to purchase Four Square in two separate models depending on your needs.
What is the basic design of Four Square?
Those individuals who purchase Four Square will be presented with a ground floor that boasts a huge living and dining area that is combined into one, and takes up almost half of the floor. Furthermore, there is no partition wall between this room and the kitchen area, which means that the ground floor can be described as being very open plan. There is also additional space at the other side of the kitchen and many users decide to implement a quiet seating area. There is a small bathroom located on floor as well, while those that purchase Four Square B will be presented with a beautiful decking area that spans in front of eight large glass panels that shine into the open plan area of the house. It would be fair to say that there is much less emphasis on light in Four Square B, with the windows being much smaller although there is at least an additional opening on the side of the property.
The first floor of the house is completely different and takes advantage of a lot more walls. There are a total of four bedrooms and all are large enough to fit a double bed. Moreover, there is an en-suite bathroom that links from the master bedroom, while there is also a family bathroom that makes use of a standard shower. There is a slight difference between the two models of Four Square in relation to the master bedroom, with A providing a small balcony while B offers a French balcony.
How much does Four Square cost?
Few people can argue that Four Square is a huge property and one that will be sufficient for the vast majority of families. As you would expect from a four bedroom house, the price is slightly higher than Alchemy Architects' other offerings and one can expect to pay between $270,000 and $315,000.
However, whilst preparing your budget, make sure that you factor in various other costs such as shipping. None of the prices that Alchemy Architects supply take into account shipping fees and these can usually stretch into thousands of dollars, depending on your location.
A summary on Four Square
Most people will not be surprised to see that Four Square is one of the more popular residential offerings from Alchemy Architects. The fact that it is comfortably suited for a medium to large family means that many often purchase the prefab so their family can take advantage of the speed and efficiency that the properties are constructed and erected.
Basic Details
base price:
$270,000 - $315,000
sq ft:
1,350
base price/sq ft:
$115 - $134
bedrooms:
4
bathrooms:
2.5
garage:
no
Base Price Includes:
Low-E Anderson windows and doors
EPDM membrane roof
weathered steel siding
Insulation - wallsR19/floorR35/ceilingR45
painted interior walls/ceilings
prefinished bamboo flooring
IKEA cabinets | Plumbing fixtures
design costs / site layout / approval drawings
Prewired 200a electrical / recessed lighting
Appliances, washer and dryer