Modern Shed Studio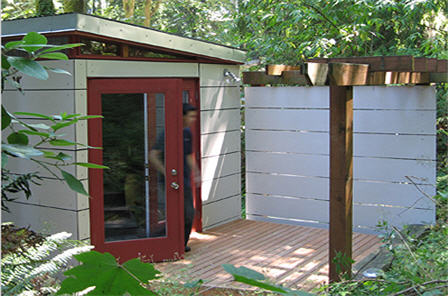 photo gallery




Studio Shed
The Studio Shed series by Modern Shed is another range that is highly versatile and ideal for those customers who have specific requirements. The company has created five different configurations for this range, meaning that they really have targeted the masses.
What does the exterior of Studio Shed look like?
From an external point of view, few would doubt that Studio Shed is a hugely modern offering. The architects have implemented a panel effect on the exterior, with customers able to stipulate the exact colors they wish to utilize, thus providing them with a lot of flexibility.
Just like practically every product that Modern Shed is responsible for, the Studio Shed series uses a shed roof. This compliments the modern effect superbly and also aids with drainage - with the water merely running off the roof to a suitable area.
While some prefabs take advantage of as much natural light as possible, the same probably cannot be said about Studio Shed. While there are double doors situated on the front of the building which allow a lot of natural light in, other sides only have small window openings which limits the effect somewhat. Still, the architects have been quite creative with some glass portions, with shallow windows being located just under the upper side of the roof.
It should also be mentioned that Modern Shed are very flexible when it comes to the immediate area outside the house. Decking is an option, with certain houses having a large space that even spans a bigger area than the main property itself.
What does Studio Shed look like internally?
Internally, it is difficult to describe Studio Shed as there are so many different configurations. The company have designed a total of five, with each possessing the following floor dimensions:
10x12
10x14
12x12
12x16
12x18
In terms of the materials, it could be said that the Studio Shed offerings are not really designed for the premium customer in mind. This should probably be expected, with the base price of the 10x12 house being just $15,100. Still, it should be pointed out that the main internal material is plywood and with only basic features being included in all of the buildings, anyone who purchases one of the designs will probably have to invest additional money if they are to bring the house up to a decent standard. On a similar subject, the company have decided against including kitchen and bathroom fittings and while this does give the end buyer a degree of flexibility, it also means that further costs should be budgeted for.
A summary on Studio Shed
There is no doubt that the Studio Shed range can only be regarded as a budget selection of prefabs, with the interior of all of the products being the main sign of this. However, with Modern Shed at least releasing several different configurations for the end consumer, it is another product from the architect that will appeal to the masses and probably be a popular property.
Basic Details
base price: (10 x 12)
$15,100
sq ft:
120
base price/sq ft:
$126
bedrooms:
n/a
baths:
no
garage:
no
Base Price Includes:
all framing / pre-painted parts and siding
metal roof / side windos / transom glass
insulated roof(R30), walls(R13) and floor(R19)
glass french doors
maple plywood interior with trim
flooring with choice of color
tongue and groove wood interior ceiling
interior partition walls / pre-drilled wire chase
kitchen and bath fixtures not included
delivery/installation/foundation not included in price