Modern Shed Basic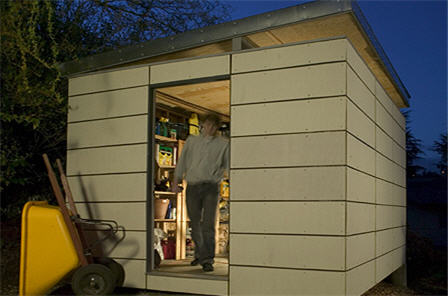 photo gallery



Basic Shed
A lot of the products in the Modern Shed catalogue are of a reasonable size and some customers may decide to utilize them as a small dwelling, or possibly a guest house. The Basic Shed product certainly falls outside of this bracket and while there are various sizes that can be purchased, none of them are suitable for permanent residence. Instead, this range has been designed for merely storing outdoor equipment and garden tools - much like any regular shed.
What does the exterior of Basic Shed look like?
Of course, while some would compare Basic Shed to the standard shed that one would find in most people's gardens, others would look at the product from a more aesthetic point of view. As you would expect from any building from the Modern Shed range, the company have implemented as many modern principles as possible and this means that Basic Shed looks extremely pleasing on the eye.
Unquestionably, the main feature of the building is the paneled cladding. This has been included horizontally and while customers can select a range of different colors, the cream is very effective and provides the building with a very solid appearance.
Another feature of Basic Shed is the roof - with this being exactly the same as every single other product in the range. It is constructed in shed form, meaning that it slopes gradually to one side, which will also aid with rainwater drainage.
For security reasons, Modern Shed have sensibly not included any windows in this building. There is a single door - but that is the only opening that the product has.
What does Basic Shed look like internally?
Just like most products in the Modern Shed catalogue, an exact answer to the internal design of the Basic Shed cannot be provided due to the varied range. The architects have released three designs in total, measuring like the following:
As you would expect with a building that has primarily been designed as a shed, the materials used internally are hardly premium. This will probably satisfy most users, although those that wish to be slightly more creative will want to implement their own alterations. On the subject of the use of the Basic Shed, it should be mentioned that previous customers have decided to adapt it into the following:
Art studio
Gym
Garage overflow
Due to the nature of some of the above suggestions, it is hardly surprising that some make changes to the interior.
A summary on Basic Shed
When a person usually talks about a standard shed, most will probably struggle to imagine just how far a design can stretch. However, it could be said that Modern Shed have pushed the boundaries in relation to the exterior aesthetics of Basic Shed, with this being one of the most modern garden outbuildings you will find. Admittedly, little attention has been paid to the interior, but for anyone using it for its standard use this should not be a problem at all.
Basic Details
base price:
$11,500
sq ft:
120
base price/sq ft:
$96
bedrooms:
n/a
baths:
n/a
garage:
n/a
Base Price Includes:
all framing / cedar plywood & fascia / redwood battens
four full length fixed glass windows / operable rear window
6' x 8' sliding glass door
fiberboard interior walls / oriented strand board floor
optional insulation packages up to R-13 walls & R-19 roof
optional french door(s)
optional operable side windows
delivery/installation/foundation not included in price