Dwelling Shed by Modern Shed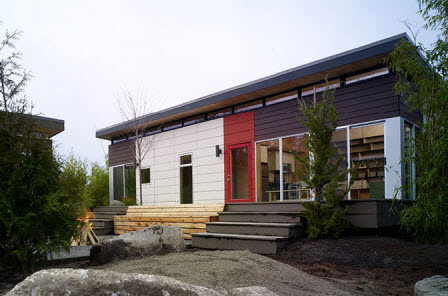 photo gallery






Dwelling Shed
It could be argued that Dwelling Shed is one of the more versatile products in the Modern Shed range, with this being available to purchase in three different configurations. It contains all of the design principles that the company have instilled in other designs, with a large emphasis on wood being the most striking feature.
What does Dwelling Shed look like externally?
As stipulated previously, Dwelling Shed's design is heavily focused on wood with all of the walls paneled in this material. The designers have aimed to give some character to the building with the coloring of the wood though, with the end user being given complete flexibility in this regard. The standard colors are a mixture of white, red and brown.
In terms of window openings, it could be said that Dwelling Shed includes the standard number of windows that one would expect to find in such a property. A lot of the front is coated in glass, with double patio doors being the main source of natural light. There are also smaller windows situated around the building, giving the occupier a very good source of natural light.
Other features of the Dwelling Shed include the roof which is, coincidently, constructed in the shed style. Most of the buildings possess an outside decking space as well, with this in front of the patio doors meaning that occupants have a pleasant area to sit out and admire the nearby surroundings.
What does Dwelling Shed look like internally?
In relation to the internal design of Dwelling Shed, the three possible configurations of the product should first be highlighted:
Model A - This is a one bedroom, one bathroom property that spans over 475 square feet. It retails for $39,900.
Model B - This property is much bigger than Model A, measuring a total of 750 square feet. Depending on the configuration that the customer selects, it can have either one or two bedrooms while it also arrives with the single bathroom. The price is slightly higher as well, with Model B retailing at $69,900.
Model C - This is the largest product in the Dwelling Shed series, boasting a total size of 1,260 square feet. It arrives with either two or three bedrooms, as well as two bathrooms, while one has to enquire to find out more about the price.
If one is considering the Dwelling Shed, they should also take into account the cost of all of the internal fittings. The company does not incorporate these into the final price, which can make budgeting for the end buyer difficult.
A summary on Dwelling Shed
With Dwelling Shed arriving in three separate configurations, there is no doubt that the end customer has a lot of control over their final building and is very likely to discover a design that suits their needs. Moreover, with the exterior being so pleasing on the eye, Dwelling Shed will be able to fit into a range of different environments without looking out of place.
Basic Details
base price: (A/B/C)
$39,900 / $69,900 / call
sq ft: (A/B/C)
475 / 750 / 1260
base price/sq ft: (A/B/C)
$84 / $93 / call
bedrooms: (A/B/C)
1 / 1 / 2
baths: (A/B/C)
1 / 1 / 2
garage:
no
Base Price Includes:
all framing / pre-painted exterior parts and siding
metal roof / side windows / transom glass
insulated roof(R30), walls(R13) and floor(R19)
glass french doors
maple plywood interior with trim
flooring with choice of color
tongue and groove wood interior ceiling
interior partition walls / pre-drilled wire chase
kitchen and bath fixtures not included
delivery/installation/foundation not included in price