Modern Cabana UC 10 x 12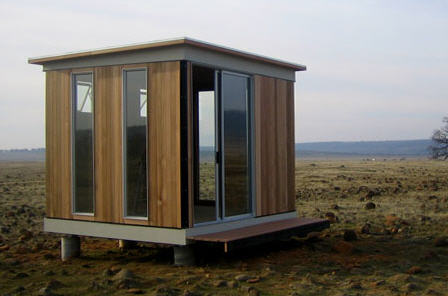 photo gallery




UC 10x12
As the name suggests, UC 10x12 is a product that measures 10' x 12'. Subsequently, it is quite a niche prefab and will only be suitable for a limited range of uses. Nevertheless, with the building arriving in the upgraded category of Modern Cabana buildings, anybody that purchases the design will have access to a building that is extremely pleasing and modern on the eye.
What does UC 10x12 look like externally?
The marketing images that Modern Cabana have released in relation to UC 10x12 highlight that it can be suitable for a range of environments - such is the design. The company have seemingly taken photos of the finished building in the middle of nowhere, yet it still looks eye-catching and this suggests that it will be compatible for any setting that a potential buyer has in mind.
In terms of the specifics, UC 10x12 places a large emphasis on finished wood panels. Such a finish combines perfectly with the tall windows that are situated on the property, with this being positioned on three sides to allow for maximum light. There are smaller openings on the back of the building, meaning that light is accessible from all four sides which promotes a nice setting inside.
Other features that are part of UC 10x12 include the flat roof and front step. In terms of the former, this has been implemented to perfect the modern and sophisticated look that Modern Cabana are clearly trying to realize. The step will only be available for environments that permit, but with it being again finished in decent wood the inclusion was worth noting.
What does UC 10x12 look like internally?
As specified throughout the information, UC 10x12 is based on small principles and may even be too small for some to use as a guest house. Nevertheless, the architects have been keen to highlight that it can be possible to utilize the property in this way, with a double bed and bedroom furniture being included on the sample floor plan.
In terms of the interior materials, again a large emphasis is placed on finished wood. All of the fixtures are finished to an exceptionally high standard, with maple and bamboo being just two examples of the materials that have been used.
What is UC 10x12 used for?
With UC 10x12 being so small, some potential customers sometimes enquire just what the building can be used for. In short, the following options are possible:
Guesthouse
Pool house
Shed
General garden outbuilding
While the company may have marketed this as a guesthouse, some will probably look at the size of UC 10x12 and decide that this is not the use for them. Instead, a pool house is probably one of the most common options, with the large amount of glass meaning that this is always a good choice.
A summary on UC 10x12
With UC 10x12 being regarded as an upgraded property by Modern Cabana, nobody needs to question the quality. The building will slot in well within most environments and while the size may be small, the architects have at least demonstrated that it is sufficient enough to cope as a guestroom.
Basic Details
base price:
$16,375
sq ft:
120
base price/sq ft:
$136
bedrooms:
n/a
baths:
no
garage:
no
Base Price Includes:
all framing / clear cedar siding / cement board fascia
four full length fixed glass windows / operable rear window
6' x 8' sliding glass door
maple interior walls / cedar trim / bamboo flooring
R-13 wall & R-9 roof insulation included
optional french door(s)
optional operable side windows
delivery, installation and foundation options available