Modern Cabana SC 10 x 12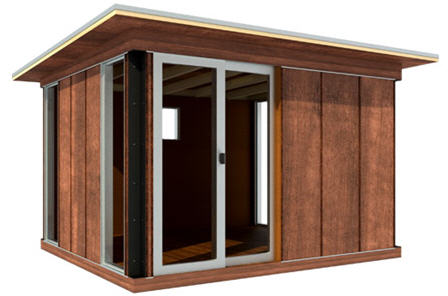 photo gallery




SC 10x12
As one may guess from the telling name, SC 10x12 is one of the standard offerings from Modern Cabana which measures at 10' x 12'. Unsurprisingly, this means that it has not been manufactured as a building for permanent residence, but rather for those individuals who require an outbuilding for their existing property.
What does the external design of SC 10x12 look like?
Even though SC 10x12 is small, nobody can doubt that it looks very friendly on the eye. The architects have done their upmost to place as much emphasis on wood and while there are several slight modifications that one can attempt with the wood, all of them look very impressive nevertheless.
One interesting fact about SC 10x12 is the amount of glass that has been included in the building. Even though it is not regarded as any sort of residence, with its size maybe even prohibiting its use as a guest house, it still benefits from wide patio doors that allow a lot of natural light into the building. Furthermore, there are several tall windows dotted around the property that again contribute to this light allowance.
Another feature of SC 10x12 is the flat roof. While some will view this as quite a basic part of the design, others will appreciate that it instils more modern principles into it which certainly seems to be the aim.
What does SC 10x12 look like internally?
As one may expect from such a small building, SC 10x12 has been manufactured with a completely open floor plan. This means that the total building is comprised of just one room, meaning that its use can be varied.
As mentioned previously, there has been a big push on including a lot of wood on the exterior, and this is something that appears to have been replicated internally. All of the walls are coated in maple, while the window trims are constructed of cedar. All of this means that the whole building is very consistent and this means that the general impression that one receives from SC 10x12 is a high quality design.
What is SC 10X12 generally used for?
While it was stated that most people would probably find SC 10X12 too small to be a guest house, this hasn't stopped the architects from implementing bedroom furniture on the floor plan. Such a layout includes a double bed - highlighting that SC 10X12 could be utilized as a guest bedroom for some people.
For others, the product will probably be used as a general garden house. Some may utilize it to store equipment, while others may include it on their property as a pool house if their environment permits.
A summary on SC 10x12
While small, it is clear to see that Modern Cabana have made special effort to make SC 20 x 12 a very high quality building. The interior and exterior are made out of some very impressive wooden features and while it may be too small for a lot of prospective buyers, for others it will integrate perfectly alongside their existing home and garden.
Basic Details
base price:
$11,500
sq ft:
120
base price/sq ft:
$96
bedrooms:
n/a
baths:
no
garage:
no
Base Price Includes:
all framing / cedar plywood & fascia / redwood battens
four full length fixed glass windows / operable rear window
6' x 8' sliding glass door
fiberboard interior walls / oriented strand board floor
optional insulation packages up to R-13 walls & R-19 roof
optional french door(s)
optional operable side windows
delivery, installation and foundation options available