hydra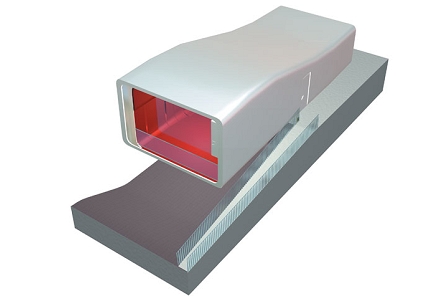 photo gallery




Hydra
It could be said that most of Konyk Architecture's designs look like something out of a film, although Hydra certainly takes this to the next level. The design is unquestionably the most unique in the catalogue and boasts futuristic characteristics from a range of levels.
As well as being the most innovative creation, Hydra is also the smallest. Its specification reads as the following:
One bedroom
One bathroom
One carport
What does Hydra look like externally?
The bizarre thing about Hydra is the marketing material that Konyk Architecture uses to promote the building. From one of the computer generated images, the company have shown the building alongside standard detached houses on a residential street. While Hydra has been primarily designed as a dwelling, it would certainly look completely out of place in a normal street due to its hugely modern design.
There really is no way to describe the shape and general style of Hydra, with the building being like no other ever designed. The only possible description you can attach is that it is low and shaped almost like a long simulator that one could find in a mall.
Perhaps one of the big external features of Hydra is the car port. If there ever was an example of a prefab using either a Batman or James Bond feature, this was it. The main building remains suspended above a slope, which then proceeds to expand into a carport that is based under the property. This not only makes a great feature for Hydra, but also provides very good vehicle security.
What is the floor plan of Hydra look like?
Just like most of the products that Konyk Architecture manufacture, there are very few details available about the internal floor plan. However, it has been disclosed that just one bedroom and one bathroom is part of Hydra - with both of these rooms practically appearing in the same space. As well as boasting an extremely unique exterior, Hydrah has internal space which is hugely innovative as well. The company claim that all of the rooms are compressed into one large space - with beds, televisions, storage, food preparation zones and even showering facilities all having the potential to be shut away or opened up depending on the immediate use.
Should the occupant decide to keep everything closed away, the room forms into a completely open space that can be used for any purpose.
A summary on Hydra
Hydra is arguably the most interesting product in the Konyk Architecture range. Just like its sister products, Hydra retains all of the futuristic properties that have made the architect so successful in the past. It is unquestionably designed for a sole occupier or couple, with the one room concept being inventive to say the least. While the idea of folding away various forms of furniture will not appeal to some, it will be very enticing for others who will appreciate the large open space that Hydra can provide when areas are not being used.
Basic Details
base price:
n/a
sq ft:
n/a
base price/sq ft:
n/a
bedrooms:
1
baths:
1
garage:
carport
Base Price Includes:
Steel tube "unibody" frame
Centria Formawall Exterior Insulated Panels
VistaWall 1 insulated low-e exterior glazing
Kalwall Insulated Structural Walls
Epoxy flooring / polycarbonite interior walls
IKEA cabinets / Bosch/Subzero
Duravit / TOTO / DornBracht
HVAC central heating and cooling system