K4 Module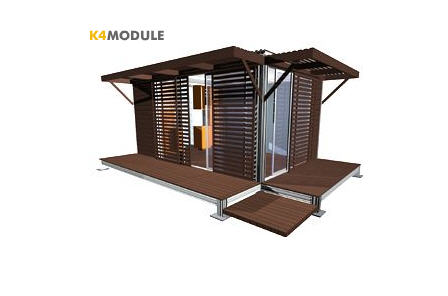 photo gallery




K4 Module
On first look, K4 looks very similar to the K3 Module. However, when one delves into the specification, it is clear to see that K4 is slightly more advanced and also bigger - with the product being 187 square feet in size.
What does the exterior of K4 look like?
The main reason why people become confused between K3 and K4 is due to the external appearance. K4 looks almost identical to K3, with the architects placing a massive emphasis on wood. Just like its predecessor, wood blinds have been installed and these can be moved around to alter the amount of natural light that is permitted into the building. On the subject of natural light, two sides of the building are constructed out of glass panels and this means that very little artificial lighting is required in the daytime.
Are there any additional options that can be purchased alongside K4?
K4 is the only product in the kitHAUS catalogue that permits for additional options. The company have devised a further design to combine with the initial K4, with this being the K4+Bath. Suffice to say, this creation benefits from a bathroom and this means that it is ideal for those households that require a guest room to be located nearby. Of course, the privilege of having a bathroom comes at a price and while the standard K4 design costs just under $40,000, the K4+Bath will set you back $52,450.
What are the main differences between K4 and K3?
Ignoring the possibility of installing a bathroom, there are very few differences between K3 and K4. K3 is around 117 square feet in size, making it slightly smaller, but other than that it is difficult to pick any major differences. The general construction is identical, with kitHAUS clearly attempting to install the modern wooden principles in both.
What do customers use K4 for?
While K3 was regarded as a property that was unsuitable for any residential purposes, the increased size of K4 means that some customers attempt to use it as a guest room. Of course, if one is contemplating such an approach, it could be worth purchasing the bathroom option which makes it a very impressive outbuilding for this purpose.
The majority of buyers are likely to buy K4 module for much more basic reasons, such as a pool house, gym or office. In terms of the latter, K4 has proved particularly popular for those individuals who work from home and wish to have separate office space.
A summary on K4 Module
The similarities between K3 and K4 are obvious and it is clear that the latter is only appropriate for those individuals who require that little bit extra space. Of course, one of the major benefits of K4 could be its potential for a bathroom, with this feature meaning that it can be used as a guest house for those families who desire.
However, on the whole K4 is an excellent option for simple outbuilding use. Whether it is an office or pool house, the construction of the building means that it will sit well in any location.
Basic Details
base price:
$37,500
sq ft:
187
base price/sq ft:
$200
bedrooms:
n.a.
baths:
n.a.
garage:
no
Base Price Includes:
patented M.H.S. aluminum frame/clamp system
SIPs walls / ceiling / glavulume roofing
Grace moisture protection system
insulated windows / doors and walls
finished birch plywood flooring
interior aluminum slatwall finish
optional louvers and canopy
optional decking and steps