K1 Module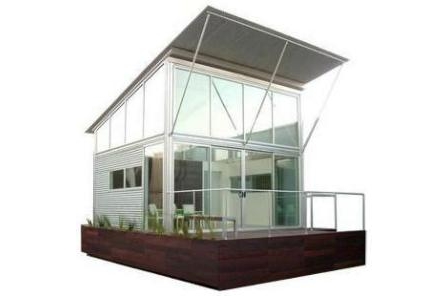 photo gallery





K1 Module
Holding a total floor space of 289 square feet, K1 Module is the joint largest product in the kitHAUS range. Just like all the products in the company's catalogue, one does not purchase the building with rooms installed and the customer has complete control over how their property will look internally.
What does the exterior of the K1 Module look like?
It would be fair to say that kitHAUS have done their upmost to make K1 Module into a hugely modern property, with the whole building being constructed out of the latest materials. There is a massive emphasis on glass, with practically all wall panels being formed of it and this means that occupants in the building are blessed with plenty of natural light.
The roof of K1 Module is of the shed variety, which again contributes to the modern theme.
What does K1 Module look like from the inside?
It's probably worth mentioning that anyone looking for a readymade prefab solution is not going to be satisfied with K1 Module. While the buildings is constructed to an exceptionally high standard, the lack of an internal floor layout means that you must invest a considerable amount of time in deciding how to design your property.
Of course, there is at least some guidance available on floor plans. kitHAUS have included three suggestions in the package, with the first being comprised of a bathroom and shower at one end of the property, with the remainder being taken up by a studio design. Another idea is to merely have the whole house taken up by a wood stove and living room, while the final suggestion is to have a large open plan dining room and kitchen, with a toilet at the side.
What purposes do people buy K1 Module for?
As you may have realized, it would be very difficult to use the K1 Module for permanent residential reasons. The tiny size of the building means that such a use is just not practical and as the suggested floor plans have shown, it's impossible to include all of the necessities of a modern day house.
For the above reasons, most people tend to use K1 Module for a holiday home. Its versatile nature means that it can be placed absolutely anywhere, although the modern design might mean that it is not suitable for country settings.
Alternatively, some customers may look to utilize K1 Module in a commercial manner. It is probably of adequate size for a small office, which the owner could incorporate a bathroom to meet the necessary regulations for non-dwelling buildings.
A summary on K1 Module
There's no doubt that K1 Module is only going to appeal to a small niche, as the product is far too small to be considered for a lot of residential purposes. However, due to the fact it has been designed in such an impressive manner, some people will be enticed and might decide to purchase this prefab for either private getaway space or as a hub for their business.
Basic Details
base price:
not yet available
sq ft:
289
base price/sq ft:
bedrooms:
n.a.
baths:
n.a.
garage:
no
Base Price Includes:
patented M.H.S. aluminum frame/clamp system
SIPs walls / ceiling / glavulume roofing
Grace moisture protection system
insulated windows / doors and walls
finished birch plywood flooring
interior aluminum slatwall finish
optional louvers and canopy
optional decking and steps