mkLoft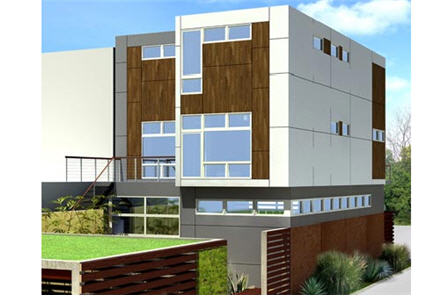 photo gallery



mkLoft
As the name of this product may indicate, mkLoft has been designed with considerable emphasis placed on the loft. It focusses on all of the principles that have been instilled in all of MK Designs' buildings, with modern forms of construction being used throughout. In summary, mkLoft can be provided with the following specification:
Two or three storeys
Three bedrooms
Two or three bathrooms
It can be established that mkLoft is another product which can be purchased with flexibility on the customer's behalf. While most will purchase the property with three bedrooms, there is room for manoeuvre in relation to other elements with the number of storeys and bathrooms both differing depending on the selected configuration.
es mkLoft look like externally?
It could be said that mkLoft has a striking resemblance to mkSolaire, with both products utilizing the same modern, rigid principles. While the customer has plenty of flexibility in relation to the end choice of materials, most decide to combine wood with light-colored metal panels.
While some may think that the windows of mkLoft and mkSolaire differ a lot, the general unpredictable shape of them suggests otherwise. Both include windows of various shapes and sizes throughout the buildings, with little emphasis placed on allowing a lot of natural light into the building. This doesn't mean to say that the building will be dark - just that mkLoft provides fewer windows than most modern prefabs out there.
What does the floor plan of mkLoft look like?
Even though mkLoft can arrive in several configurations, MK Designs have provided the end customer with a basic template. The ground floor of this design contains a huge open space - with the customer having complete control of how to utilize this area. There is also a small bathroom, so that the building meets the disabled user requirements in relation to facilities.
The first floor of the building is slightly busier, with the designers installing a bedroom, living space, bathroom and kitchen. In relation to the kitchen, there is no separation between this and the living room meaning that it is very much open plan.
MK Designs refer to the top floor of the building as a loft, although some may debate this as it contains so many compartments. A small living room, additional bedroom and family bathroom are all included on this level - although it doesn't cover the whole of the building as a small portion of mkLoft does not stretch to the top floor.
A summary on mkLoft
mkLoft shares a lot of features with mkSolaire, with both products looking very similar from an external point of view. It could be said that mkLoft does provide the customer with much more flexibility in terms of the end design and a lot of people will be impressed with the loft space. This is probably the feature of the house and means that all of the rooms are allowed to be very spacious, as the design spans over so many levels.
Basic Details (LO.1)
base price:
sq ft:
base price/sq ft (all models):
$130 - $140
bedrooms:
3
baths (B.1/B.2):
2 - 3
garage:
no
Base Price Includes:
Cedar and Hardiplank® siding
Nanawall® BreezeSpace doors
Standing-seam butterfly metal roof
Air-barrier, open cell foam insulation
Clerestory windows for ventilation & natural light
EcoTimber® bamboo and Slate tile flooring
Maple cabinets and gliding doors
Kohler® and Hansgrohe® fixtures / Paperstone counters
Slate tiled bathrooms
High efficiency Heating/cooling system