Custom Prefab Homes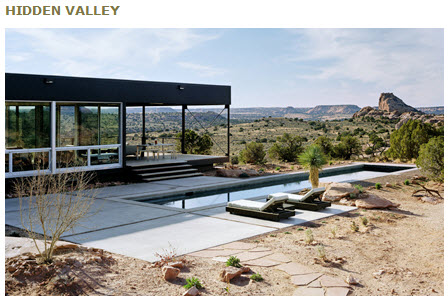 photo gallery






Custom Prefab Homes
While Marmol Radziner have built a sterling reputation on the back of their catalogue of designs, the company are also able to provide customers with a custom service. They have already been responsible for countless buildings in this custom range and rely on their 20 years of experience in the industry to construct their products.
Every element of the design is customized directly to the customer's needs. This can be anything from the basic floor plan, to the materials used on the exterior of the building. Moreover, it is not simply the building that can be influenced, with the surrounding areas such as the landscape also being designed by Marmol Radziner.
The company have been responsible for countless custom prefab homes, with the following being some of the most reputable:
Wallace Creek
Las Vegas
Dry Creek
Desert House
Fairview
Hidden Valley
Long Valley Ranch
Palms
Hollywood Hybrid
Wallace Creek
This was a design that takes full advantage of natural light, with practically the whole building made up of glass panels. It was created as a holiday home for weekend escapes, with the small space holding one bedroom and one bathroom.
Las Vegas
In contrast, Las Vegas is a much bigger property. With four bedrooms and five bedrooms it really is a large dwelling and the fact that the internal floor space reads as 8100 square feet highlights that it is something of a mansion.
Dry Creek
This is another custom design that utilizes plenty of glass, although nowhere near as much as Wallace Creek. It's another modern dwelling and with two bedrooms and one bathroom, it will be suitable for a lot of individuals and couples.
Desert House
This is regarded as one of the medium sized custom prefabs from Marmol Radziner and while it is based over a five-acre site, it still only holds two bedrooms and two bathrooms. It's the decking which is the most significant feature of this property, with this actually covering more space than the internal floor plan.
Fairway
Another modern design, Fairway makes use of a wood-like exterior. This is another property which can be classed in the medium range, with Fairview spanning 3,200 square feet internally. It also benefits from plenty of natural light and the company have implemented maximum decking space as is the case with all of their designs.
Hidden Valley
This is probably one of the company's most prestigious designs and was created for an affluent buyer. It again benefits from a modern external design, with the flat roof and emphasis on glass contributing to this appearance.
Long Valley Ranch
Modern is unquestionably the theme in this design as well, with Long Valley Ranch being a one storey property with two bedrooms and two bathrooms. The architects have also included a pool area with a pleasant outside sitting space.
Palms
Palms has a huge emphasis on wood with the external design, with this property housing three bedrooms and two and a half bathrooms. It has several outside decking areas, as well as a covered terrace.
Hollywood Hybrid
With this property situated on a slope, the designs had to be extra careful with Hollywood Hybrid. Again, they were able to produce an extremely modern design, with the building having three bedrooms and three and a half bathrooms.
Basic Details
base price:
$274,000
sq ft:
660
base price/sq ft:
$415
bedrooms:
1
baths:
1
garage:
no
Base Price Includes:
Steel beam frame / joists
Tyvek wrap / EPDM membrane roof / metal siding
Wood Structural Insulated panelized system
All finishes - walls/doors/floors/ceiling
Low-E insulated windows/doors
Natural cotton wall insulation
Ipe exterior decking
EcoTimber bamboo interior flooring
Walnut veneer cabinets / CaesarStone counters
Bosch/Sub Zero appliance package / Bosch Washer/Dryer
Kohler® / Jado / KWC
complete lighting / fixtures
High Efficiency Carrier furnace/A/C