Jeriko House Caleb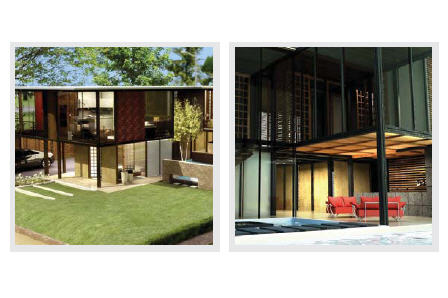 photo gallery


Jeriko House Caleb
Jeriko have seemingly made every effort to provide affluent buyers with another large option. While many thought that the architect had marketed Jeriko House Jude for those individuals looking for a large dwelling, they have also brought Jeriko House Caleb to the market and this offers a very similar outlook.
What does the exterior of Jeriko House Caleb look like?
Even though Caleb is identical to Jude when it comes to floor space, with both measuring 4,320 square feet in size, the architects have made every effort to make the exterior look as different as possible. Nobody would argue that Jude utilized lots of modern materials, with Jeriko placing a lot of emphasis on cladding which resulted in little natural light being permitted into the building. Therefore, for those individuals seeking a "lighter" house, Caleb could be the preferred choice. There is a huge emphasis on glass panels and when these are combined with minimal cladding and aluminium columns, the result is a highly modern, polished finish. The flat roof contributes to this whole look and out of the three dwellings that Jeriko produce, one could argue that Caleb is the most visually appealing.
What does the internal layout of Caleb look like?
One of the unique things about Jeriko as an architect is that they place considerable effort on including lots of entertainment and social spaces in their buildings - particularly the large ones like Caleb. Bearing this in mind, one will not be surprised to hear that the ground floor is comprised of very little "living space", with most of the rooms being of the premium nature and ones that you would not expect to find in a standard home. Such rooms include a powder room, sundeck, two entertainment rooms and an indoor and outdoor bar area. As well as this, standard rooms such as a garage, workshop and utility room are included.
In terms of the first floor, this contains all of the three bedrooms as well as the three bathrooms, while additional rooms on this level include a kitchen, dining room, living room and walk-in-closet. It is worth mentioning that one of these bathrooms is classed as a kids bathroom, which has been designed specifically use by children.
All of the above means that Caleb has exactly the same floor plan design as Jude, which should not be much of a surprise considering the floor size is identical.
A summary on Jeriko House Caleb
There is no doubt that Jeriko have targeted a very specific market with their Caleb offering, with the size and prestige of this property probably only suited to affluent buyers. Few prefab homes can boast as having as many deluxe features as Caleb and anyone who purchases it is sure to be treated with rooms of real luxury.
It's also worth concluding that Jeriko have seemingly made Caleb even more modern than their other big dwelling, Jude. It benefits from much more glass, while the aluminum columns and various other features mean that the building looks fantastic on the eye.
Basic Details
base price:
contact
sq ft:
4,320
base price/sq ft:
tbd
bedrooms:
3
baths:
3.5
garage:
yes
Base Price (Standard Package) Includes:
Design, fabrication and delivery of home components
Modular Aluminum T-Slot framing system
Roof, windows, doors, exterior panels and glass.
Walls, flooring, interior paneling and finishes
Pluming, electrical, appliances and fixtures
All hardware (bolts, brackets, screws)