X-Line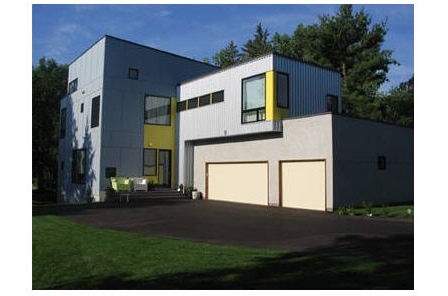 photo gallery




About Hive Modular X-Line:
X-Line differs completely from any other range in the Hive Modular catalogue. While the company have attempted to use pre-set designs for a lot of their buildings, this is not the case with X-Line and the series is completely customized.
The company has provided two base designs for customers to use as a platform for ideas, but on the whole all of the dwellings that originate from X-Line are utterly unique. This means that the range has been responsible for some weird and wonderful homes and if you possess the budget to purchase a custom design, then this could be a very exciting route.
While Hive Modular do not market any specific products like what can be found in the other series, they have completed several projects. These can now referred to by a unique product number, with the following being some of the most established:
X-LINE 004
X-LINE 006
X-LINE 009
X-LINE 011
X-LINE 013
X-LINE 015
All of these names refer to real-life projects and from these buildings, it's possible to showcase what sort of properties can be built through Hive Modular's custom service.
What is the general exterior of the X-Line products?
Due to the varied nature of all of the products in the series, it can be difficult to show any exact points that are emphasized during the external construction of homes in the X-Line brochure. However, one thing that is certain is the fact that Hive Modular make all of the properties completely modern. Using the modular approach that their company has built most of its success on, the majority of buildings under X-Line are quite rigid in shape and use only the latest materials. There is a big influence on light metals, while some properties will make use of some wood as well.
It's worth mentioning that all of the buildings that have been created under this umbrella utilize flat roofs. While this might be to emphasize the modern look even more, it could also be because of the modular policy which would cause unnecessary expense with a pitched roof.
What are the general features of products in the X-Line catalogue?
Again, this is a difficult question to answer as all of the products in X-Line are customized. However, with most buildings in the range containing four bedrooms, it is safe to say that most homes that are manufactured through this design are of the large variety and targeted at affluent buyers. With that being said, the X-Line 015 arrives with three bedrooms, although this is one of the smaller properties and others include five bedrooms in their floor plan.
A summary on X-Line
It can be very difficult to provide a thorough analysis on X-Line, as the range differs in so many ways. All of the designs in the X-Line catalogue are completely unique, although it is clear to see that Hive Modular are targeting those individuals who want to insert that little bit extra into their home and probably spend a little more in the process.
Basic Details (001 / 002):
base price:
$322,000 / $140,000
sq ft:
2,300 / 1,000
base price/sq ft:
$140
bedrooms:
3 / 2
baths:
3 / 1
garage:
optional
Base Price Includes:
Tyvek house wrap
Norco windows and doors
fibercement exterior siding
EPDM membrane roof
Insulation - wallsR19/floorR44/ceilingR44
basement with foundation and egress windows
Kahrs wood flooring
painted interior walls/ceilings
plumbing fixtures / vanity / bathroom tile
custom lighting with dimmers, wiring and fixtures
heating and A/C / water heater
design costs / site layout / approval drawings