B-line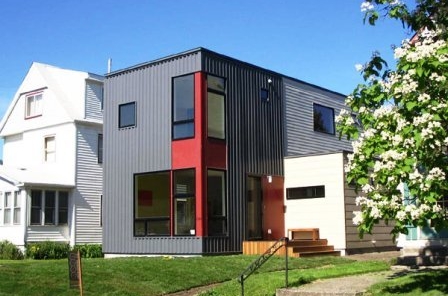 photo gallery





B-Line
The B-Line series is based on a "bar" shape design, with all the properties being based on a narrow plot. In total, there are ten houses in the B-Line range, with some being small and only suitable for individuals while others are much bigger in size and designed for larger families.
The models in the B-Line range are aptly named and read like the following:
B-Line M 001
B-Line M 002
B-Line M 003
B-Line M 004
B-Line M 005
B-Line M 010
B-Line M 011
B-Line S 002
B-Line S 003
B-Line S 004
The B-Line M Homes
Hive Modular has named seven homes in its B-Line range under the "M" bracket. This stands for medium, with all of the properties being of a decent size. The majority of the homes are suitable for small to medium families, with most holding three bedrooms.
All of the houses in the M range have two storeys, with the ground floor usually being of open plan format. A bedroom is situated on the side of this floor, while the remainder is mainly made up from a kitchen, dining and living area. Most of the time, the architects try their upmost to incorporate a downstairs toilet and plenty of closet space. In terms of the first floor, this is mainly bedroom space. There is a bedroom situated at both sides of the floor, with both having access to separate bathroom facilities.
It should be noted that the above is merely the general design of the M range, and each of the seven products vary in some capacity. For example, B-Line M 003 is slightly bigger and boasts a downstairs porch and a rooftop deck, while B-Line M 005 takes an even different approach and boasts a double garage for those families with vehicles.
The B-Line S Homes
As one may gather from the name, the S range of the B-Line products are much smaller. The architects have achieved this smaller floor space by merely having the one storey, which means that there is space for a maximum of one bedroom. Some designs in the S range decide to ditch the bedroom completely and opt for a studio look, although this does mean that the designs are open to commercial use. In fact, some of the S series actually arrive without a kitchen, meaning that Hive Modular have seemingly made it their priority to target business owners with some of their houses. Elsewhere, some of the properties, such as S 003, are packaged with a garage to appeal to a different residential market.
A summary on B-Line
The B-Line can be described as nothing but a very intriguing prefab series, with all of the products boasting plenty of external modern features. Hive Modular have also made every effort to make their floor plans as customizable as possible and this means that people of all backgrounds, whether commercial or residential, are able to take advantage from the ten designs that are currently available within the B-Line catalogue.
Basic Details (small / medium / large):
base price:
$140/sq ft
sq ft:
990 / 1,780 / 2,400
base price/sq ft:
$140
bedrooms:
1 / 3 / 3
baths:
1 / 3 / 3
garage:
optional
Base Price Includes:
Tyvek house wrap
Norco windows and doors
fibercement exterior siding
EPDM membrane roof
Insulation - wallsR19/floorR44/ceilingR44
basement with foundation and egress windows
Kahrs wood flooring
painted interior walls/ceilings
plumbing fixtures / vanity / bathroom tile
custom lighting with dimmers, wiring and fixtures
heating and A/C / water heater
design costs / site layout / approval drawings