Kalkin House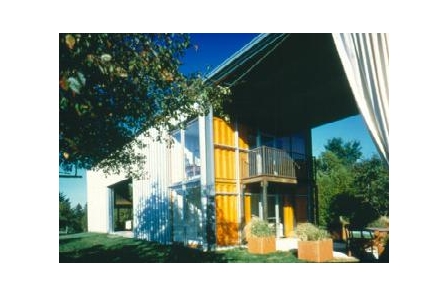 photo gallery





Kalkin House
Out of all of the buildings that Adam Kalkin has designed, it is probably Kalkin House that is the most renowned. However, one of the big differences between this and most of his other offerings is the fact that this is not available to purchase and was instead an exhibition building at Shelburne Museum.
History of Kalkin House
Kalkin House was erected at the museum in June 2001 and remained there until June 2012. Most people don't know that the building was originally known as Collector's House and in the early stages of its time at Shelburne, it was fitted with various pieces of folk art that were already held at the museum. However, in 2006 big changes occurred and as well as being renamed Kalkin House, the museum decided to utilize the property as an area for temporary exhibitions. These exhibitions would market a number of different types of art although the house would still keep the characteristics that made it so appealing in the first place.
Unfortunately, it is no longer possible to access Kalkin House after a construction form named Engineers Construction decided to remove the piece from the museum. However, the company have stated that they have several ideas on how to make use of the building in other methods and many are hoping that they will start to market the building as a prefabricated house that can be bought on the general market.
The design of Kalkin House
Just like most of Adam Kalkin's creations, Kalkin House is also based around shipping containers and incorporates three into its design. The main frame of the building is constructed of steel and inside the house you will find two bedrooms alongside en-suite bathrooms and a study. As you may expect, the house also contains a kitchen which can only be described as large and is decorated with a staircase on both sides. At one end of the building is an outdoor space, which can be protected through large curtains that wrap around the shell. Unsurprisingly, these curtains have also been designed with sustainability in mind having been originally used as sails.
Another feature included in Kalkin House is a garage. This appears at the end of one of the containers and benefits from two glass doors at either side, which would be perfect for light and usability purposes.
A summary of Kalkin House
Adam Kalkin has proved on more than one occasion that he is an exceptionally talented architect and some of his innovative ideas are simply breathtaking. Kalkin House is probably one of his best designs and the fact it has spent most its life as the center piece of a busy museum speaks volumes about how well it is viewed by industry experts. Perhaps the most disappointing thing about Kalkin House is the fact it has not been available to purchase for regular house-hunters. However, now it has been removed from its museum environment, there are hopes that this could change and it could become a popular prefab for domestic use.
Basic Details
base price:
custom
sq ft:
custom
base price/sq ft:
custom
bedrooms:
n/a
baths:
n/a
garage:
n/a