The Mountain Retreat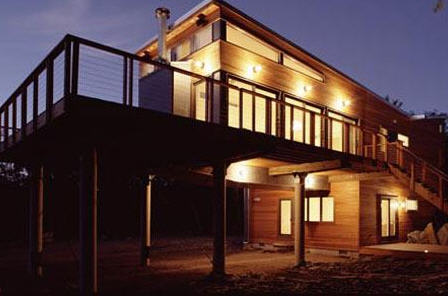 photo gallery





Mountain Retreat
In comparison to other properties that have been developed by Resolution:4 Architecture, there is no doubt that Mountain Retreat takes on a more modern approach. While there are still big similarities with the design, the architects seem to have placed more of an emphasis on contemporary design and this will appeal to a lot of people. In summary, the following specification can be attributed to Mountain Retreat:
1,800 square feet of floor space
Two storeys
Two bedrooms
Two bathrooms
What does Mountain Retreat look like externally?
Just like a lot of products in the Resolution:4 Architecture catalogue, there is a huge emphasis on wood with Mountain Retreat. Most of the exterior is clad in this material, although the designers have provided some variation with other parts of the design which make use of a tile-like material. In fact, the whole of one wall is finished like this and the architects have subsequently created a very modern appearance.
Another similarity with Mountain Retreat and other properties is the amount of external decking. It would be fair to say that the designers have placed a big emphasis on this element of the design - although it does differ from other buildings in the way it spans right the way around the building, thus creating a massive outside sitting space. Furthermore, it should be added that as the decking is placed on the first floor, there is unused space below. Considering the lack of a garage with this prefab, some customers may decide to use it as a carport while others may have different ideas.
In terms of openings, Mountain Retreat has plenty of them - probably to complement the views that the design was initially created for. There are a large number of patio doors that span out onto the decking, while the architects have included other long, horizontal windows that help bring a lot of natural light into the property.
What does Mountain Retreat look like internally?
In terms of the internal design, Mountain Retreat has been completely split into two levels with rooms appearing in no particular order. For example, the ground floor benefits from both a sitting room, a bedroom and bathroom - meaning that there is no particular divide between living and bedroom space when one ventures to the next level.
This next level is mostly open plan, with the kitchen, dining and another living room taking up most of the floor. It's at this point that the decking appears, with this accessible from the open plan layout. The second bedroom is situated on this floor as well and is slightly smaller than the downstairs one, with a bathroom located adjacent to it.
A summary on Mountain Retreat
Mountain Retreat is another prestigious property from Resolution:4 Architecture, with the company retaining many of the external features that have made their brand so successful. The outside decking is unquestionably the feature that will entice most people, with this providing an incredible amount of space when put next to the internal space.
Basic Details
base price:
n/a
sq ft:
1,800
base price/sq ft:
n/a
bedrooms:
2
baths:
2
garage:
no
Base Price Includes:
Standing-seam metal roof
Cedar and Cement board siding
Recycled wood composite decking
Aluminum clad Low-E windows and doors
Bamboo interior flooring
Solid surface countertops
Maple cabinets
Slate bathroom floors