The Dwell Home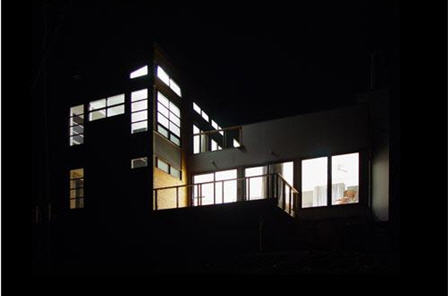 photo gallery






Dwell Home
The fact that this building won the Dwell Home Design Invitational highlights exactly why it is so popular within the prefabs industry. Dwell Home utilizes all of the policies that Resolution:4 Architecture have adopted in many of their other designs, with the 2,400 square feet of space being comprised of some of the most premium features around. The company have opted to split the property into a total of five modules, thus making it a very simple prefab to put together. This building can be described via a simple summary:
Two storeys
Three bedrooms
2.5 bathrooms
Carport
Various decking spaces
What does Dwell Home look like externally?
Dwell Home takes on many of the characteristics that have been prevalent in several other designs from Resolution:4 Architecture. There is a huge emphasis on wood panels, with this being placed on most of the outside walls. It has been broken down in some places, with the uses of cement board panels sometimes prevalent, but on the whole the architects have tried to rely on wood and glass on the exterior.
On the subject of glass, Dwell Home relies heavily on natural light principles. There are a lot of windows situated on the property, with most of these spanning from floor to ceiling. In some cases, the whole of one wall is coated in glass panels, meaning that occupants really will be blessed with a very sustainable solution when it comes to natural light.
Decking is another feature that should be explained when it comes to the exterior. The company have shrewdly used recycled wood to manufacture various decking spaces around the property, with one of these being particularly impressive as it also includes its own fireplace. Resolution:4 Architecture have made a feature from this fireplace, with the chimney stretching along the back of the building from top to bottom.
What does Dwell Home look like internally?
When one analyses the floor plans of Dwell Home, the most striking issue will be the small amount of internal space on the ground floor level. Instead, much of the ground floor is taken up by decking space, while a carport is also situated here that is able to facilitate two cars. Internally, the design is very much open plan, with a kitchen, dining and living room taking up the majority of the level. There are some smaller rooms as well, with a bathroom, office, studio and various storage space falling into this category.
Unsurprisingly, the second floor is comprised of bedroom space. The master bedroom is very much a dominant area of this level, with the space being enormous and also including a walk-in closet and en-suite bathroom. The other two bedrooms share a family bathroom, although one of these also has the luxury of the decking space through patio doors. It should be mentioned that the company have actually labelled this as a sitting room, although its position would indicate that many would use it as bedroom space.
A summary on Dwell Home
Any product that has been praised by Dwell is certain to be of very high quality and that is certainly the case with this building. All of the materials utilized provide a hugely sophisticated appearance, while the various decking space is sure to be very appealing to a lot of potential buyers.
Basic Details
base price:
n/a
sq ft:
2,042
base price/sq ft:
n/a
bedrooms:
3
baths:
2.5
garage:
no
Base Price Includes:
Standing-seam metal roof
Cedar and Cement board siding
Recycled wood composite decking
Aluminum clad Low-E windows and doors
Bamboo interior flooring
Solid surface countertops
Maple cabinets
Slate bathroom floors