E Cube 1398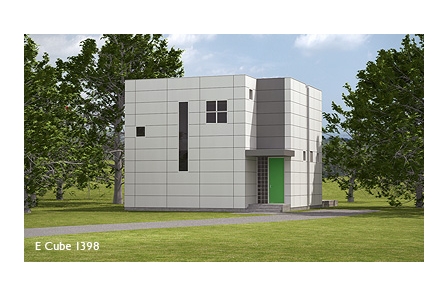 photo gallery




As you may have gathered through the name of this product, the E Cube 1398 is the smallest house in the E Cube catalogue and is of 1398 square feet. Despite its small size, E Cube have implemented all of the design philosophies that have made their brand so reputable over the years, with the 1398 boasting the same cubic design that makes the company so distinct.
What is the general design of the E Cube 1398?
First and foremost, it is worth mentioning that the E Cube 1398 has just two bedrooms, while all of the rooms are sat across two floors. The ground floor can be described as being very simple and somewhat open plan. The kitchen space takes up approximately a quarter of the house, with the next quarter being comprised of an entrance hallway, stairs and a downstairs toilet. The other half of the house is a large dining and sitting area, which boasts its own fire place.
Over half of the first floor contains the two double bedrooms, with one of these rooms linking to a smaller room that can be used for any purpose you desire. Due to the fact it is situated right next to the family bathroom, some owners may decide to convert this room into a small en-suite, while others may simply utilize it as storage or a closet.
What does the exterior of E Cube 1398 look like?
As stated previously, there is little difference in the appearance of the exterior of the E Cube 1398 as there is in any of the other products in the company's brochure. It is based on the famous cubic look, with this being exceptionally rigid, flat and designed to look as modern as possible. The fact that the walls are comprised of superinsulated structural insulated panels emphasizes the style, with these being painted in white. The windows are other features which contribute to this overall look, with the architects aiming to be as inventive as possible by having several windows of completely different shapes and sizes. Some are the standard squares, while others are long and thin.
On the subject of the materials, it is worth mentioning that the E Cube 1398 has been designed with highly sustainable materials meaning that buyers would also be acquiring an exceptionally green house.
A summary on the E Cube 1398
From the outside, the E Cube 1398 is probably one of the most stylish prefabs you will set eyes on. The white paneled design that the architects have implemented is simply stunning and while such a property is probably too modern for some neighborhoods, for others it will be the jewel of the estate and this is exactly what E Cube have been attempting to do. Of course, the 1398 is the smallest product that the company release and with that, it is only suitable for very small families, couples who have no plans to start a family or individuals that live alone.
Basic Details
base price:
$113,300
sq ft:
1398
base price/sq ft:
$81
bedrooms:
2
baths:
2
garage:
no
Base Price (Standard Shell) Includes:
Trusses, beams, floor, walls, roof panels
Windows, exterior doors, exterior trim and siding
Superinsulated SIPS walls (R40), floor (R30) and roof (R60)
Fiber-cement cladding with rainscreen
Energy Star, double glazed, argon-filled Low-E windows
Exterior sun screens, cross ventilation
Passive solar heat gain design