Stitch House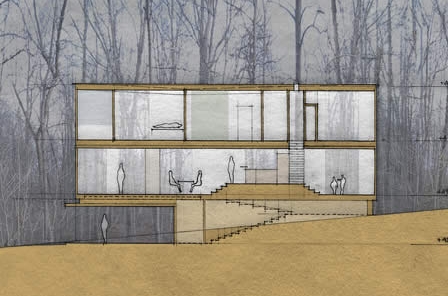 photo gallery




Stitch House
Designed by Gomes + Staub Architects, Stitch House really does take modern principles to the next level. Wieler have opted to instil as many tall fundamentals into the property as possible, with tall ceilings and tall windows being the key factors of the design. Of course, there is also plenty of floor space, with Stich House arriving with the following specification:
The building is set on 2,048 square feet of floor space
Two storeys
Three bedrooms
2.5 bathrooms
What does Stitch House look like externally?
From an external point of view, Stitch House takes advantage of a very rigid design. From a distance, some would compare the product to a simple box, with the designers paying little attention to architectural features and instead concentrating on keeping the outside of the building as simple as possible. This is emphasized with the flat roof, which simply blends in with the rest of the building.
Unquestionably, one of the biggest features of Stitch House is its windows. The company claim that all of the windows that have been included within the product are 8-feet tall, constructed out of aluminium. One of the windows stretches from floor to roof, while the majority are practically covering the whole of one storey level. On the ground floor, the architects have grouped several windows together and have thus brought an incredible amount of natural light into the general living space.
For those buyers that require, Wieler are able to include outside decking space as well. This is based on a slope and with it being situated adjacent to the patio windows, it can provide a pleasant area for socialization.
What does Stitch House look like internally?
Approximately half of the ground floor of Stitch House is designated as living space, with this encroaching further into the building where a kitchen is situated. This means that the general living area is simply massive and as there is no partition between this and the kitchen, the initial thought is that Stitch House boasts a very spacious design. Elsewhere on this level there is a small bathroom, laundry, while another space that the developers have labelled as either a family room or study.
Unsurprisingly, practically all of the top floor has been provided for bedroom space. The master bedroom is particularly large and occupiers will not only benefit from a built-in wardrobe, but also an en-suite bathroom. Both of the other bedrooms are sized respectively and with a bathroom situated in-between, occupiers have conveniently placed sanitary facilities. Furthermore, both of these bedrooms also have their own wardrobe space.
A summary on Stitch House
In comparison to other products by Wieler, it would be fair to say that Stitch House is much different. The product takes advantages of design principles that the company have never explored, with the tall philosophy working well and providing an exceptionally modern appearance. Away from an aesthetic perspective, Stitch House has a favourable layout for families who are surely the target market with this product.
Basic Details
base price:
n/a
sq ft:
2,048
base price/sq ft:
$140 - $200
bedrooms:
3
baths:
2.5
garage:
no
Base Price Includes:
Fiber cement siding
EPDM membrane roof
Large deck
8' Aluminum double pane low-E windows
All delivery/set/contractor/architectural fees
Wood/Carpet/Tile flooring
Lighting and plumbing fixtures
Built-in shelving and desks
All appliances / HVAC installation
Wiring for phone/computer/entertainment