Place Houses Small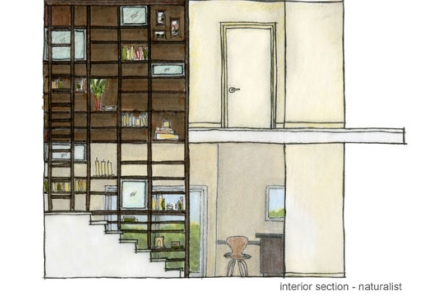 photo gallery




Small
As anyone familiar with Place Houses may gather, Small is the next product up from Tiny. While it may be regarded as Small in name, in substance some would disagree as it is set over 1,247 square feet and boasts an impressive specification:
Two storeys
Two bedrooms
Three bathrooms
What does the exterior of Small look like?
From an external point of view, there are probably few variations between Small and other products in the range. However, one major difference surrounds the roof, with the architects implementing a shed style roof instead of other forms which are installed on other properties in the company's catalogue.
In terms of materials, Small takes advantage of a wood paneled effect for the lower half of the property. The style then alters somewhat as the height of the property increases, with various cladding effects being utilized which give the product a very modern appearance.
It could be said that Place Houses have taken the same approach with what they have used with all of their other buildings when it comes to natural light. Small is by no means wanting when it comes to the amount of windows, although there are nowhere near as many as what some prefab designs take advantage of. This means that occupants will be gifted with a moderate amount of natural light.
What does the interior of Small look like?
Even though Small is larger than some other products in the Place Houses range, its size still means that the architects have had to be quite restrictive with its internal floor plan design. It could be said that the lower floor is very much open plan, with the stairs and downstairs toiler being the only features which provide any sort of separation on this level. The kitchen is situated here and while the rest of the space has not been labeled by the architects, most are likely to use it as living and dining space.
As you may expect, the first floor is dedicated to bedroom and bathroom space. Once arriving on this level by the stairs, which are located centrally, one is presented with a landing area which channels off to both the left and right where bedrooms are placed. A bathroom is attached to each bedroom, although one of the bedrooms appears to be narrowly larger than the other - as well as containing its own storage cupboard that some will use as a walk-in closet.
A summary on Small
Even though it is classed as Small by name, this is a product that is sized perfectly for a lot of potential buyers. Small families in particular could make excellent use of the property, with the layout providing generous space to all rooms. As well as the internal design, the building is designed in a hugely aesthetically-pleasing way on the outside and this means that it is going to sit well in any neighborhood. Furthermore, the various decking that is prevalent around Small will be very appealing to a lot of people.
Basic Details
base price:
$350,000
sq ft:
1,584
base price/sq ft:
$221
bedrooms:
2
baths:
3
garage:
no
Base Price Includes:
Concrete slab foundation
Patio and Decks depending on model
Light landscaping and entry walkway
Complete home with exterior and interior finishes
Choice of three finishing Packages
Lighting/commmunication / fixtures / appliances
Heating / cooling / water heater
On-site storm water management