MD 144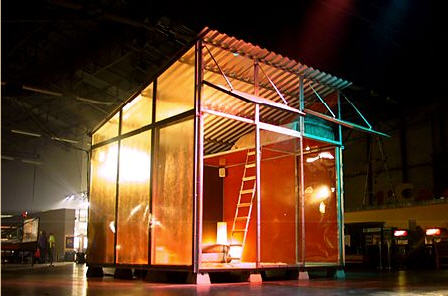 photo gallery




MD 144
While MD 144 may only be 24 square feet larger than the next property down in the Modular Dwellings catalogue, there is no doubt that this is the point in which the series starts applying to potential buyers with an eye set on a permanent residence. Designed by Edgar Blazona, MD 144 boasts several features which make this a completely alternative building when it is compared against some smaller dwellings in the range. To analyze MD 144 in simple terms, one could refer to the following specification:
Contains a kitchen unit
Has a sleeping compartment in the loft area
Mainly constructed of translucent materials
What does MD 144 look like externally?
It could be argued that the internal components are some of the most obvious when one refers to MD 144, with no other smaller product in the series making use of some of these features. However, from an external point of view, MD 144 also differs enormously from others and goes against the general design aim that Modular Dwellings have seemingly placed emphasis on in other buildings. It could be said that the main goal in other properties has been the "shed appearance" - with great emphasis placed on wood to create that general garden outbuilding look. MD 144 in contrasts utilizes translucent fiberglass walls to focus plenty of natural light in the building, while there is also some corrugated metal on the roof and side walls to create an even more unique appearance.
One issue that is quite similar to other buildings is the front. Modular Dwellings have decided to implement glass on the front of the building, meaning that occupants will at least be able to benefit from a clear view of the nearby surroundings.
What does MD 144 look like internally?
The internal configuration is really where MD 144 is set apart from other products in the Modular Dwellings catalogue. It is similar in the way that it possesses just the one main room, although this does contain a small kitchen area which can make it ideal for a small guest dwelling.
It is the loft area which makes the product utterly unique though, with this allowing the main room to be used as general living space. This loft area is probably only suitable for a single sleeping arrangement, meaning that those looking for a more significant building may consider to also use the main room as a bedroom - with a fold down bed being a possibility. The loft area is accessed via a ladder, meaning that the ground floor is not compromised when it comes to space management.
A summary on MD 144
With MD 144 being slightly larger than other properties in the catalogue, it's no surprise to see that the architects have gone that extra mile in trying to maximize the potential from the space. The loft sleeping compartment will appeal to a lot of people, who will then be able to use the ground floor as a general living space as well as a kitchen.
Basic Details
base price:
n/a
sq ft:
144
base price/sq ft:
n/a
bedrooms:
n.a.
baths:
n.a.
garage:
no
Base Price Includes:
steel framed module
windows / door
metal exterior siding
translucent fiberglass wall
bunked sleeping loft