Bamboo Living - David Sands Signature Collection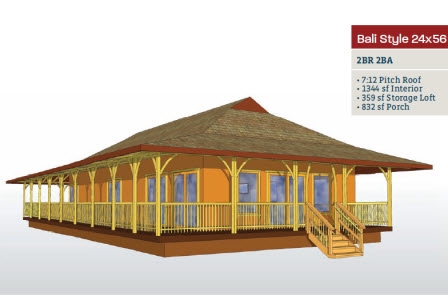 photo gallery





There's no doubt that Bamboo Living possess great pride in all their products, although the David Sands Signature Collection is one of the main keys to their success. This collection contains no fewer than six different products detailed as follows:
Celestial
Ohana
Bali
Polynesian
North Shore
Pacific
Celestial
Out of all of the products included in the collection, Celestial is regarded as one of the best. It utilises a hugely sustainable design and makes use of the bamboo elements that have made Bamboo Living so popular over recent years. In terms of the floor plan, half of the building is made up of an open plan living and kitchen area, while the other half is comprised of two bedrooms. There are also two bathrooms and strangely, one of these leads out from the porch which stretches across most of one side of the property.
Ohana
Ohana is a completely different design to Celestial and while the term may mean "family" in Hawaiian, it would not be accurate to say that it resembles a family home. It's based on an octagon design with a bathroom at one side, a living area in the middle and a porch surrounding the rooms. Many customers are also fond of the roof, which rises to a small pyramid in the center.
Bali
Bali is a complete contrast to Ohana and while the previous design may have been somewhat unorthodox, Bali is much more rigid. It also possesses a unique roof and pleasant porch area, while the inside of the house is put together like a studio. This means the bedroom, kitchen and living room area are all combined into one, while a small bathroom is offset from this region.
Polynesian
Out of all of the designs looked at so far, there is no doubt that Polynesian is one of the most extravagant designs. The living area and kitchen is again of an open plan standard, while there are two bedrooms located at the opposite end of the building. Moreover, this building contains two bathrooms and a laundry room, meaning that residents really do have everything available. The exterior is constructed in the typical bamboo style and there is an open space in the roof that can be utilised for various storage purposes.
North Shore
It would be fair to say that North Shore is one of the most spread out designs in the collection and can be described as low and long. It contains many more rooms than the other houses looked at; with three bedrooms, an office and two bathrooms making up the bulk of the design. There is also a porch and an open plan living and kitchen area.
Pacific
If this could be compared to any of the other offerings, it would be the Ohana. It's shape really cannot be described in words and while it looks small from the exterior, it still contains a living area, bathroom and kitchen, while there is a bedroom that can be used in the loft.
Basic Details
base price:
$80 / sq ft
sq ft:
144 - 2,080
base price/sq ft:
$80
bedrooms:
studio - 3
baths:
0 - 3
garage:
no - optional
Base Price Includes:
Timber bamboo structure and walls
Sheathed roof panels
Room layout per floor plan
Painted interior with bamboo trim
Painted or stucco-ready exterior walls
Hand-crafted bamboo bolt covers
Covered porch
Vaulted ceilings with exposed bamboo rafters
Feng Shui color themes
Options: bamboo doors, flooring, cabinets, railings