Bamboo Living - Bamboo Commons Collection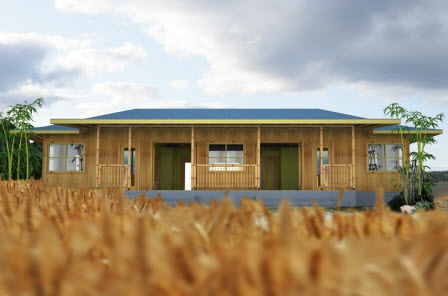 photo gallery






As you will gather from the name, bamboo is the key component of this collection with the architects working to put together a solution that looks pleasing on the eye and satisfies many green barriers that are hindering development at the moment. The fact that the walls are all 20' wide and are still constructed out of bamboo highlights just how far the architects have gone in putting together the eight designs that litter this collection. It is worth mentioning at this point that while each of these products have a preferred design, Bamboo Living do provide their customers with plenty of customization options and itís possible to rearrange the floor plan differently. The following are the main products within the selection:
400 sq/ft
1000 sq/ft
1040 sq/ft
1200 sq/ft
1440 sq/ft
1760 sq/ft
2080 sq/ft
2480 sq/ft
400 sq/ft
As you may have guessed, this building is 400 sq/ft in size and is therefore comprised of a very small interior. Its kitchen and living area are of open plan format, while there is also a three-piece bathroom.
1000 sq/ft
It's clear to see that this is a much bigger offering and therefore hasn't been designed in studio format. Instead, there are two bedrooms at opposite ends of the house, with both containing an en-suite bathroom. The living area and kitchen are part of a large space that sits between the two bedrooms.
1040 sq/ft
Despite only being 40 square feet bigger than the previous product, this one arrives with an extra third bedroom meaning that it could be utilized as a family home.
1200 sq/ft
Even though this is significantly bigger than the last product looked at, Bamboo Living don't tend to include more than three bedrooms in the design. However, as you may expect, all the rooms are much more spacious and it probably is the best example of a family home so far.
1440 sq/ft
As we get bigger in size, the Bamboo Commons Collection starts to incorporate more features. This product is designed in an L-shape and buyers will generally have access to three bedrooms and two bathrooms, depending on the style they select.
1760 sq/ft
Again, Bamboo Living have included just the three bedrooms in this product. Similarly to the latest building looked at, this is also designed in an L-shape although one of the distinct differences is the vast amount of outdoor living space, with 400 sq/ft included within this design.
2080 sq/ft
The fact that this still only holds three bedrooms highlights just how spacious the whole house is. The building also incorporates three bathrooms, while the master bedroom is regarded as quite a luxurious suite as it contains a walk-in wardrobe amongst other tasty extras.
2480 sq/ft
Bamboo Living have left their four bedroom offering right until the end and it would be fair to say that this design is bordering on a mansion. As well as the four beds, there is extensive outdoor space as well as several walk-in wardrobes, making this design a superb home for any large family out there.
Basic Details
base price:
$60 / sq ft
sq ft:
400 - 2,480
base price/sq ft:
$60
bedrooms:
studio - 4
baths:
1 - 4.5
garage:
no - optional
Base Price Includes:
Timber bamboo structure and walls
Sheathed roof panels
Room layout per floor plan
Painted interior with bamboo trim
Painted or stucco-ready exterior walls
Hand-crafted bamboo bolt covers
Covered porch
Vaulted ceilings with exposed bamboo rafters
Feng Shui color themes
Options: bamboo doors, flooring, cabinets, railings