Portable House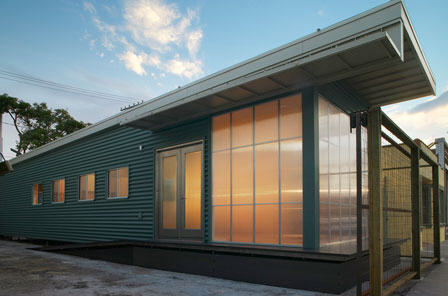 photo gallery





Portable House
Many people will take a look at Portable House and conclude that it is entirely different from a lot of other products in the OMD catalogue, such as SwellHouse which is marketed on a hugely modern external design. However, taking away the outer appearance, Portable House actually possesses a lot of similar features to SwellHouse. It is hugely versatile and while some will view the external materials as unflattering, they are at least highly sustainable. Furthermore, as highlighted through the name, this is a product that is portable and can be moved from location to location.
What does Portable House look like externally?
The marketing material that has been released alongside Portable House shows just how versatile the property is - with the end buyer having access to several external designs. It could be said that some are more flattering than others, with a minority making use of a corrugated metal appearance that would probably be too commercial for a dwelling. Of course, there are more stylish options and this perhaps showcases the beauty of the product.
In terms of the amount of glass prevalent in Portable House, it is quite small when compared to another product such as SwellHouse. However, the architects have still managed to incorporate the tall windows, with patio doors being situated at one end of the property. On the whole, the windows are generally small though, although there is still a sufficient quantity to allow for an acceptable amount of natural light.
OMD have decided to implement a flat roof for Portable House and while there are probably logistical reasons behind such a decision, it still helps make the property look highly modern.
What does Portable House look like internally?
As is the case with the majority of OMD products, the internal design of Portable House varies between each project and the specification really depends on the end buyer. Due to the portable nature of the building, most buyers are probably going to adopt a relatively small dwelling, although the technology involved in Portable House means that this isn't a necessity and almost any variation is possible.
The building makes use of steel moment frame modules, with these latching together in the simplest of fashion to provide ultimate flexibility. The beauty of such a design means that external features can also be incorporated into the design, with some of the buildings created under the Portable House scheme developed with balconies that lead from the first floor.
A summary on Portable House
There is no doubt that OMD have made portability the primary aim when it comes to Portable House. This is particularly evident through several marketing images, which show the buildings being comfortably transported via large vehicles. However, while this is the main feature, there is certainly more to Portable House. It is still a modern offering, while the flexibility offered to the end consumer is fantastic. The internal layout can be influenced to a large extent and this means that surprisingly, families can even make use of Portable House.
Basic Details
base price:
varies
sq ft:
varies
base price/sq ft:
varies
bedrooms:
varies
baths:
varies
garage:
optional
Base Price Includes:
Building construction and Installation
Concrete foundation
Transportation (limited)
Engineering, permitting
Durapalm and Plyboo flooring
Wheatsheet and Kirei Board Sheeting
Biocomposite cabinets, counters and cladding
Non VOC paints and materials