Prefab Home Models by miniHome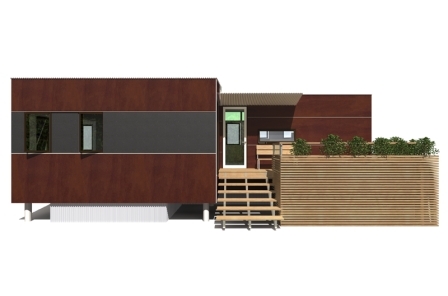 MiniHome
MiniHome are regarded as a standard developer of prefabricated homes. Having been founded in 2002, the company have proceeded to enjoy varied success and have a decent selection of buildings available in their catalogue.
In comparison to most other companies in the industry, it could be said that MiniHome place more emphasis on constructing buildings of a smaller size. However, this should not detract from their overall quality, with the company responsible for some very impressive designs over time.
What buildings are MiniHome responsible for?
In total, MiniHome have been responsible for quite a selection of buildings. However, the main ranges can be referred to as the following:
In terms of a brief overview, all of the products can be described as having very modern exteriors that place a large emphasis on wood. In fact, externally all look very similar and the designers have seemingly placed more importance of altering the internal floor plans of the property.
Solo is a series that will rarely be used for permanent residential purposes, with the properties under this bracket simply too small to house occupants on a long-term basis. Instead, they are generally used as guest houses and if one wishes to describe them in simple terms, they can be classed as a studio offerings.
As the name may indicate, Duo is responsible for slightly bigger houses and some may consider them as permanent homes. They contain separate bedroom space, while the architects have created a sleeping compartment in the lofts for those that require additional rooms.
The products in the Calimini range are designed for the Western US market. Both Solo and Duo can arrive in the Calimini series, with little alterations made on either the exterior or internal floor plans.
Are the MiniHome buildings sustainable?
Just like most prefab companies in the market, MiniHome have made an effort to implement sustainable features into all of their products. These features are incorporated in a number of ways, including the following:
Green materials - The company place more importance on using renewable materials, while no toxic finishes are utilized either.
Daylight - All windows are positioned strategically to gift the buildings with as much natural light as possible. This also aids with the thermal properties of the products.
Renewable energy - All of the buildings in the company's catalogue have the potential to use completely renewable energy sources should the customer choose. This means solar and biomass methods are both possible.
Green roof - Products can be fitted with a green roof to improve insulation and also allow water to be absorbed more easily.
A summary on MiniHome
Even though all of the buildings in the MiniHome catalogue are quite small, they all boast properties which will make them very enticing for a lot of potential customers. As well as boasting modern designs, they all use sustainable features and this has allowed MiniHome to establish a very strong foothold in the prefabs market. Unlike most developers, the company have placed particular emphasis on loft space in all of their products as well and this provides customers with a deceivingly larger amount of space.