The Cabin Series - The Method Cabin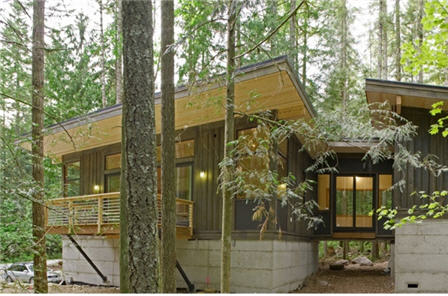 photo gallery





The Method Cabin
There is no doubt that the Method Cabin has been targeted at a range of customers, with some of the buildings possessing just two bedrooms while others are larger and offer four to the end buyer. As you may gather from such information, this means that the Method Cabin range is mainly targeted towards families.
In total, there are five models that are part of the Method Cabin range:
Model 1
Model 2
Model 2.1
Model 3
Model 4
Model 1
While the name may suggest otherwise, Model 1 isn't actually the smallest building in the Method Cabin range. Boasting an internal floor area of 1,811 square feet, this property contains three bedrooms and two bedrooms. It could be said that the shape of the floor plan is slightly unconventional and it is almost as if the property is made up of two completely separate components - with narrow corridors joining them. Externally, there is a huge emphasis on wood and it could be said that this produces a traditional appearance.
Model 2
With Model 2 covering just 1,298 square feet of space, this is the joint-smallest property in the Cabin series range. There is some degree of flexibility in relation to the design, with the architects permitting either one or two bedrooms depending on the selected internal configuration. There is just one bathroom, while the base price is $194,700.
Model 2.1
There happens to be very little difference between this and Model 2, although the architects have been quite rigid with the design and stipulated that the property has to contain two bedrooms, with 1.5 bathrooms. All of this means that there is very little difference in terms of the end specification, with the base price of this product being $198,200.
Model 3
Model 3 can be regarded as a mid-size product from Method Homes, with the total floor space being 1,471 square feet. There are a total of two bedrooms and two bathrooms - although this internal layout can be altered depending on the customer's needs. From an external point of view the property is almost identical to the others, while pricing for Model 3 starts at $220,650.
Model 4
The largest property in the range is unquestionably Model 4. Boasting 3-4 bedrooms, depending on the configuration, and three bathrooms, the building really is only suitable for large families. This internal layout is spanned over 2,600 square feet of floor space and is based on the modular approach that all of the other properties have utilized. Due to its size, one should not be surprised to hear that it costs slightly more than the others at $390,000.
A summary on Method Cabin
It can be said that the Method Cabin range is extremely varied, although all of the properties in this bracket are designed for family buyers. Generally, they all have spacious designs and with the exteriors always being made up of traditional, wooden features, it all makes for a very intriguing product for prospective end buyers.
Basic Details (
Models 1/2/3

)
base price: (1/2/3)
$271,650/$185,100/$220,500
sq ft: (1/2/3)
1811 / 1234 / 1471
base price/sq ft:
$150 - $250 (all models)
bedrooms: (1/2/3)
3 / 1-2 / 2
baths: (1/2/3)
2 / 1 / 1.75
garage:
yes (all models)
Base Price Includes:
all framing / roof / exterior cladding and trim
windows / sliding glass doors / doors / decking
interior walls / flooring / trim
pluming and electrical fixtures
appliances not included
foundation, site work, and transportation not included