LV and LVL Series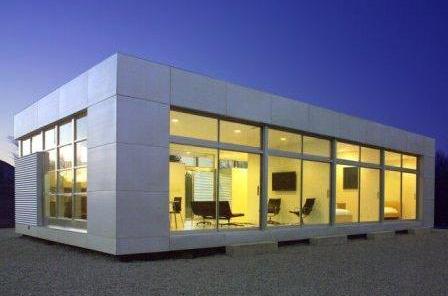 photo gallery






LV / LVL Series
The LV and LVL Series are regarded as a modern set of homes that are also affordable to the standard consumer. In total, there are four different products that fall into this range:
LV Home
LVL Home
LVM Home
LVG
LV Home
This is regarded as the signature property of the catalogue, with LV being the most popular product that Rocio Romero are responsible for. Even though the starting price is quite small at $39,500, the architects have still managed to include a lot of features including two bedrooms, two bathrooms, various closet space, a living and a dining room.
LV Home is placed over just the one storey, with the total square footage amounting to 1344. As one may expect considering the compact nature of the product, the designers have been forced into making the kitchen, dining and living areas all open plan - with these regions taking up approximately a half of the property. The other half is completely designated for bedroom space, with the master bedroom in particular being gigantic in size. This contains vast closet space, as well as its own bathroom and laundry facilities.
LVL Home
LVL Home is slightly larger than LV Home - as some may have gathered through the name. Its total floor plan totals 1669 square feet and through this additional space the architects have been able to add another bedroom. The property still only stretches out over the one floor yet with the price being $46,950, some would argue that it is a small price to pay for that extra accommodation.
In terms of the floor plan, it is very similar to that of LV Home. The kitchen, living and dining areas are open plan, with this space taking up just under one half of the property. The remainder of the dwelling is made up of bathrooms, bedrooms, closets and a utility room. In terms of the master bedroom, this is particularly large and again has its own en-suite and vast closet space.
LVM Home
In comparison to the other products, LVM Home is much smaller and is regarded as a studio offering. As you would expect, this small size is resembled in the price, with LVM Home costing just $27,950.
The total space available in the building is 693 square feet, although the designers have limited the amount of partitions in the property and have instead made it mainly open space. The kitchen, living room and dining room are all comprised in one area - although this also acts as a bedroom when the occupier requires. The only other room is a bathroom, with this situated in the corner of LVM Home.
LVG
This is much different to any of the other structures discussed, as it is primarily a garage. As you may expect, it boasts all of the modern principles that Rocio Romero have built their reputation on and will combine superbly well with any of their other buildings. The cost of LVG is $22,800.
Basic Details (LV / LVL / LVM / LVG)
"kit" price (LV / LVL):
$36,870 / $42,950
sq ft (LV / LVL):
1,150 / 1,453
base price/sq ft:
$30
bedrooms (LV / LVL):
2 / 3
baths (LV / LVL):
2 / 2
garage:
LVG is garage model
Base Price Includes:
Exterior kit shell
Post and beam / framing
Kynar galvanized steel siding
Does not include Roofing system
Does not include Windows / Interior finishes
Does not include Cabinets / Fixtures / Lighting
Does not include plumbing / electrical / mechanicals