Mfinity microSYSTEM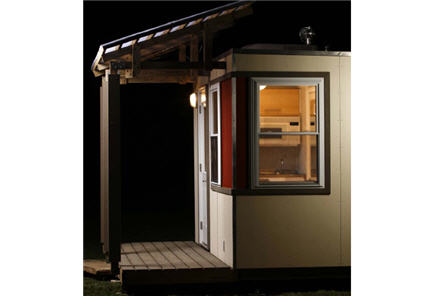 photo gallery





microSYSTEM
MFINITY have based most of their reputation on their microSYSTEM range, with this holding several products that are targeted at consumers looking for a small property. In total, there are four items that can be classed in this range:
microSHED
microSTUDIO
microCABANA
microHOME
microSHED
As the name of this product may indicate, microSHED is targeted for those individuals who require a basic shed for storage of garden equipment or similar items. It is extremely small in size although one of the more unique features of the product is the decking area, with this also containing a canopy that stretches over. It includes a window on two sides of the property, while anyone wishing to purchase microSHED will pay anything from $15,995 depending on the configuration they select.
microSTUDIO
With the price of microSTUDIO starting at $25,995, it is clear to see that the product is slightly more extravagant although still very small. The design of microSTUDIO is identical to microSHED, with the floor plan size being the only difference. With this enlarged area, it is possible to use the building from anything from a private lounge to a small garden house. Some people have been known to connect two of these buildings together with a decking area and porch, which can create a nice relaxation space.
microCABANA
microCABANA takes another step up and with this building arriving with a bathroom, it is capable of being used as a guestroom or even pool house. Admittedly, the size would suggest that it cannot be used as a permanent dwelling, although it is again possible to combine two of the properties together to create a large space. With the total price being just $33,995, it is certainly an affordable solution for those people who wish to include extra space in their yard.
microHOME
While the name may suggest that it has been designed as a permanent residence, this is not the case with microHOME and it is simply an enlarged version of microCABANA. The increase in size arrives at only little additional cost, with microHOME costing $35,995 for the basic configuration. It's possible to have a kitchen within this building - meaning that microHOME is probably the most suited for guest home usage.
A summary on microsystem
In comparison with most prefab architects, it can definitely be established that MFINITY have put considerable emphasis on small buildings. This microSYSTEM range will be generally used by those individuals who are merely looking for a small solution for their garden - although some may stretch and be able to use microHOME as a permanent, albeit very small, residence.
Of course, one of the main selling points of the microSYSTEM range is the modern design. Even though they manufacture basic products such as sheds, all of this is constructed using modern methods and this means that the microSYSTEM range is very enticing for a lot of people. Similarly, the fact that multiple buildings can be joined together so easily to create larger spaces is also very impressive.
Basic Details
base price:
$39,995
sq ft:
96
base price/sq ft:
$417
bedrooms:
n.a.
baths:
1
garage:
no
Base Price Includes:
windows/door/siding/roofing/insulation
painted interior walls/ceilings
delivery and set-up included
kitchenette - sink/stove/refrigerator/storage
bath - pass-thru shower and composting toilet